Bicycle Helmets for the 2000 Season
Summary: Our review of helmets being sold in 2000. Trends first, then individual models. See this page for more recent years.
Trends for 2000
Helmet lines for 2000 continue last year's trend to fewer new helmet designs, reflecting flat consumer demand and thin profit margins in the industry. All helmets manufactured for the US market after March 10, 1999 must meet the national
CPSC standard
, but a few of the older ones are still on sale. We recommend looking for a helmet that:
1. Meets the CPSC standard.

2. Fits you

3. Has a rounded, smooth exterior.

4. Has no more vents than you need.


Some of the better ones are identified in the most recent
Consumer Reports helmet article
, but most models on the market were not tested for the article.

Vents are still big!
A major theme for the last two years has been more and larger air vents. Manufacturers tout the number of vents in their helmets, a meaningless parameter that we will not even mention in the descriptions below. If all else were equal, more vents would be a Good Thing, but as usual, all else is
not
equal. Opening up larger vents usually requires harder, more dense foam and squaring off the edges of the remaining foam ribs to squeeze out the most impact protection possible from the narrower pieces still there. Since we believe that rounder shells and less dense foam are virtues in a crash, we don't recommend hyper-vented helmets unless you can't live without the added ventilation. See our rant on this subject titled
Vents and Square Lines: Problems with some designs
.

Fewer designs are squared-off
The fashion among helmet designers in recent years has favored squared-off edges of the foam remaining around the vents, and the addition of sharp lines in the exterior plastic just for style. The elongated "aero" shape has continued to dominate in the upscale models as well. This is a less than optimal design for crashing. Fortunately we see some moderation of this trend in the helmets for 2000. Rounder shells reduce to a minimum any tendency for a helmet to "stick" to the surface when you hit. They also eliminate the aero tail that can shove the helmet aside as you hit, exposing your bare head. Here is the symbol of the campaign we have been conducting for rounder, smoother helmets: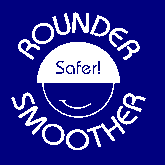 We are not so naive as to believe that is has worked, but in fact the newer models for 2000 seem to be a little more rounded than last year. Our reasons for avoiding helmets with squared-off lines are also on our page titled
Vents and Square Lines: Problems with some designs
.

More Trends
Other trends this year include a continued but very slow movement toward brighter colors, mirroring what is happening in bike colors and clothing. Visors continue to lose ground, as manufacturers use them to promote a difference between visorless "road" helmets and visored "mountain bike" helmets. They want to sell you two helmets. The distinction is entirely artificial, since both are designed to the same standard and in many cases both will be used at times for the other type of riding.
Another continuing trend is packaging helmets with other accessories, particularly in the skate market, where a number of manufacturers including PTI and Troxel have knee pads and wrist protectors with their "multi-sport" helmets. We were surprised to find that most of those multisport helmets are certified to the same ASTM F-1447 bicycle helmet standard as a normal bicycle helmet. The list of those certified to Snell's N-94 multi-purpose standard is still very short.

New Technology
The most radical thing on the market for 2000 is the Sport Scope helmet, made with sections of foam bound by an inner mesh. We have
comments on it below
. Several new designs are coming, but not yet on the market, including helmets that glow, more helmets with blinkers in the back, and perhaps
an interesting new design by a Canadian teen with internal LED's that light up when the helmet is fitted correctly
. Otherwise there were no exciting new materials or major advances in technology evident yet in this year's helmet lines. Rumors persist that we will see new closed-cell, cross- linked polymers and other "magic" foams to replace the standard EPS, EPU and EPP, but it seems that nothing is ever quite ready for the market.

Bell Still Covers the Largest Heads
As we noted last year, Bell introduced in late 1997 their Kinghead helmet, a very large lid that fits up to size 8 1/4, with a maximum circumference of 29.5 inches. Most people can turn it sideways. It meets the need of a small but desperate group of riders with very very large heads, who have been finding it increasingly difficult to ride on club events and have even been riding unlawfully in some jurisdictions because they could not find a helmet large enough. We salute Bell for producing this helmet as a service, knowing that due to the very small market it will not make money. They have also updated it for 2000 to meet the CPSC standard, again without prospect for covering the cost through sales. The Kinghead is a beautiful helmet, with the smoothly rounded exterior we consider optimal. But due to the limited demand for this special interest item we have yet to see it in any of Bell's ads, and you have to go to a local bike shop to see one. It can now be ordered by mail order from Nashbar and other sources, and the price is under $40.

Standards
In March of 1999 the new CPSC bicycle helmet standard became law
. Helmets manufactured for the US market after March 10, 1999 are required to meet that standard by law. That took most of the steam out of the standards issue during 1999. There are still a few older models out there manufactured before March 1999 that do not meet the CPSC standard, and can still be legally sold. We have seen $85 list price 1998 Bell Evo Pro's at $30, for example. Some of those older helmets may be good buys. If they meet the ASTM standard they would be very close to meeting CPSC.
Since the CPSC standard applies only to bicycle helmets there may be others on the market that don't meet the it, but just omit any reference to being a helmet for bicycling. They can be for skating, skateboarding, surfing or tiddlywinks, as long as they are not labeled for bicycling. They can even be sold in bike shops or in discount stores on the same shelf as the bicycle helmets, with the same packaging and only the wording on the box different. So a measure of "buyer beware" is still required, but that issue is fading rapidly as inventories turn over. We recommend that you look for a sticker inside the helmet saying it meets the CPSC standard, and if it is not there, look for an ASTM standard instead, and don't pay more than $20 for the helmet.
In addition to the legally-required CPSC sticker, the independent Snell Memorial Foundation's Snell B-95 sticker is an even better indicator of quality, but most of the "Snell" helmets on the market meet only Snell's B-90 standard, comparable to CPSC. Snell's N- 94 multipurpose standard is even better, but only two manufacturers have models certified to it at present. We can't explain all those B-numbers to most consumers, so we no longer make a big point of telling people to look for a Snell sticker. You can find more info at the
Snell website
if you need it.
The Safety Equipment Institute is another independent organization certifying bicycle helmets, this time to the ASTM and CPSC standards. So you don't have to take just the manufacturer's word for it any more if there is an SEI sticker in the helmet.

Consumer Reports Picks
In their June, 1999, issue
Consumer Reports
awarded its highest impact protection rating to the Globe model from Louis Garneau (Canada). They had previously rated the Globe as a Best Buy. But the top rating went to a Bell model, the EVO-2 Pro, now discontinued. We would favor the helmet with the best impact protection, if it fits you well and the ventilation is adequate. We were more impressed with some of Louis Garneau's other models, but apparently CU did not test others. We did like the very bright yellow that is one of the Globe's available colors.
You can find the helmet article on the
Consumer Reports website
, but it will cost you a paid subscription. Otherwise, read it in your local library, or check out
our brief summary
.

The Helmets
Abus is best known as a manufacturer of high-security padlocks. But they also have a line of bicycle helmets including seven for kids or toddlers, and nine for adults. They are made in Germany.

Action Bicycle
The Hard Head line of helmets is produced for Action Bicycle by Strategic Sports in Hong Kong. Their models include the
Acclaim
, an otherwise standard adult helmet with visor and rear stabilizer that has an internal headband for size adjustment and retails for $35. Other models include a full face BMX helmet for $80, a child helmet at $20, and a skateboard helmet that retails for $36 or $40 in full chrome.

Advent
We have not actually seen the Advent line since 1998. At that time they had a line with four ASTM/SEI certified helmets, including the z-Jet, Z-Fire with rear stabilizer, z bop and the child's Peekaboo. We do not yet have any info on their 2000 models.
AGV SpA has two models under the Fox Racing banner: the Flite and the Fox Pilot. Both appear on Snell's B-95 certification list. The Flite is a standard BMX helmet with no vents, a chin bar for face protection and a bolted on visor. We did not find them on the
AGV website
that came up in December of 1999.

Alpha Helmets
Alpha helmets are made by Mien Yow Industry in Taiwan. They have a line of well-rounded models led by the complex-looking Vortex and including one model with a flashing led taillight built in. Alpha helmets are made of EPS foam, rather than the EPU generally favored in Taiwan. The manufacturer says their retail prices run $30 to $50, but that seems impossibly high in today's market for a Taiwanese helmet. They did not have CPSC stickers in their helmets at Interbike in September of 1999, but of course they could not sell their helmets here unless they met the CPSC standard this year. Alpha also makes skating, hockey and batting helmets.

Answer Products
Answer Racing has two BMX racing helmets for 2000 with hard, unvented shells. Their top of the line M-8 has carbon fiber and Kevlar in the shell, while the M-6 is a polycarbonate and fiberglass shell. Both have chinbars for facial protection and bolted on visors (a potential snagging hazard). They have removable liners for cleaning, and come with a three year free crash replacement guarantee. They are certified to the Snell Foundation's M-95 motorcycle helmet standard and the DOT motorcycle standard, far exceeding the requirements of any bicycle helmet standard. Retail pricing for the adult models runs $200 to $280, and for the juvenile model it will be about $150. The Answer line is produced in Korea by KBC for Performance Bicycle Components.

Apex
Apex is located in Finland. We have not seen their helmets, but they have nice photos on their website showing a child model and an adult model they say is 40 per cent vent. We did not see any info on standards their helmets may meet. Their English language website said in December, 1999, that they are looking for a US distributor. In March of 2000 the link above was broken.

Atlas
Atlas is a Swedish manufacturer. They have an XS child helmet that fits heads as small as 17.8 inches in diameter that they say will fit children as young as six months (not recommended!--see this page). We have not seen them in the US and their website does not indicate they meet the CPSC standard, so they may not be available here. Their Hot Shot adult helmet appears to be a very nicely rounded design, with a taped on shell, that they say meets the ASTM standard, but again without mention of CPSC. Their Sport model appears to have a rigid visor, which could be a potential snagging hazard. They managed to add a rear ridge on their otherwise well rounded skate helmet, and do not mention ASTM on the page describing that one.

Azonic
Azonic/Santa Cruz/O'Neal Distributing has two BMX helmets in their line for 2000. Both are hard shell, no- vent full face helmets with removable inner liners for cleaning. Both have large, sturdy, bolted-on visors, a potential snagging hazard. The 540 model has a polycarbonate shell and meets the Snell motorcycle helmet standard (M-95), therefore exceeding by a wide margin the DOT motorcycle helmet standard and by an even wider margin any bicycle helmet standard in the world. It weighs 3 pounds and costs $120. (We could not find it on the Snell list, however, and would have to assume that it is made by another company who had it certified by Snell under their own name.) The other model is lighter, with construction described as "fiberglass and a space age blend of Carbon-Kevlar." It will retail for about $150. Azonic has matching goggles and glasses available under their curiously- named "Blur Optics" brand.
Bell is the dominant company in the bicycle helmet market, with perhaps as much as 70 per cent of the world market, almost certainly over half. They have introduced three new models for 2000 and updated the rest of their line to meet the CPSC standard. Of equal interest, they have dropped the Evo Pro, which we had panned because of its alternating strips of plastic and bare foam on the outer surface, but which had been rated excellent by Consumer Reports in their June, 1999 helmet article. Bell also dropped the Intercooler, a complex helmet to produce, and one that did not sell well due to its high price and impression of bulk.
At the top of Bell's line are their molded-in-the-shell models, called the Fusion Series. For the 2000 year all are hyper-ventilated and all have rear stabilizers. Among them:
Phi Pro: Bell's newest addition for 2000 has a thin plastic shell on both top and bottom, a feature pioneered by Louis Garneau about five years back. It is a hyper-ventilated model with long vents and an angular outer surface designed by someone who never heard of rounder-smoother-safer. This one is advertised as a "road" model, so it has no visor. Colors are red, white and blue. The retail price is $125.


Rubicon Pro: a new "mountain bike" (with visor) design for 1999. Better rounded than some of Bell's models, but the rear shelf has large potential snag points. This one also has the inmolded bottom shell. Suggested retail is $100, down $35 from last year. Colors are drab red, blue, silver and green.


Envy Pro: The "road" version (no visor) of the Rubicon, at $90. Comes in a very bright yellow or in white, making it much more visible on the road than the Rubicon.


Image 2000 Pro: A complete redesign of the old Image Pro, apparently required to make it pass the CPSC standard. The shape is marred by one of the worst rear shelf points in Bell's line, but the price is considerably below the top models at only $75. Has a visor with mounting points that "snap" into the shell. Comes in highly visible white or dark green, red and blue with darker stripes that are almost a camouflage effect.


Esprit Pro: The Image 2000 without the visor at $65. Brighter colors for the road.


Nemesis 2 Pro: A 1998 design with huge vents and the unfortunately squared-off ribs and large rear shelf to go with them. For 2000 the Nemesis 2 has some very bright colors that should make it show up well on the road.
Bell's lower-cost helmets are produced with the shell glued and taped on rather than fused in the mold. Since that design gains less strength from the shell, the vents tend to be a little smaller, but should be entirely adequate for almost all riders. Prices are significantly lower.
Paradox Pro: paradoxically has the lowest weight of any of Bell's models by about one ounce at an advertised 9.3 oz. Also has large vents, and a nicely rounded shape except for a pronounced rear shelf point. Suggested retail with visor is $50, down $5 from 1999. Paradox has Bell's pinchguard buckle, a nice design with a tab behind that keeps the skin from getting in while you push the two pieces together. There is a nice bright yellow model, plus blue and silver.


Forza 2 Pro: Another rounded design with another moderate rear shelf. White, blue , black and red. $40 retail. Pinchguard buckle.


Vita Pro: Bell's "budget-minded" helmet based on the Forza 2 without a visor. Pinchguard buckle. Retails for $30.


Kinghead Pro: This $30 helmet has a beautifully rounded exterior, with full CPSC protection for 2000. Highly recommended for those who fit it: it is made only in Extra Large for riders with head sizes up to 8 1/4 (25.9 inches around). It is still the only bicycle helmet made for those with very large heads. We had asked numerous manufacturers to make this helmet, but only Bell stepped up to the plate. This is Bell's contribution to consumer safety, not corporate profits, since the helmet will fit only a very small number of riders, and is never expected to make them any money. If you know somebody who needs a very large helmet, tell them to contact their Bell dealer, or check out mail order outlets on the Internet, since we have yet to see any Bell ads for the Kinghead.


Mischief Pro: A youth helmet selling for $40 with visor. It has the nicely rounded shape of Bell's non-inmolded helmets, with moderate rear snagging points. The graphics are flamey, but the colors are dark gray and blue. Pinchguard buckle.


Frenzy Pro: the Mischief without visor for $30. Has a bright pink "in bloom" model and a part-orange "fire dragon" Pinchguard buckle.


Amigo Pro: New for 2000, a helmet for kids that is built like the one their parents use. The very nicely rounded exterior is better rounded than Bell's adult helmets. Has a rear stabilizer. No visor. Pinchguard buckle. Yellow or black.


Boomerang Pro: Another new for 2000 model, somewhat like an Amigo for toddlers, with the additional rear coverage required by the CPSC toddler helmet standard. Cartoon graphics with a bright yellow visor. Pinchguard buckle. Retail is $30.


L'il Bell Shell Pro: a toddler helmet with vents known last year as the Half Pint Pro. Has the best- rounded shape and best coverage of any helmet in Bell's line. The June, 1999 article in Consumer Reports said the Half Pint Pro was "the clear choice" for toddler helmets, but of course they had not seen the Boomerang.
Bell has BMX and downhill racing models in their line for 2000, all with fiberglass shells imported from China, all vented and all with the beautifully rounded shapes that are traditional in BMX helmets. Unfortunately they also have bolted on visors, so the rear "shelf" snag point has been traded for the potential snagging of the rigidly-mounted visor. They all resemble motorcycle helmets with vents, and weigh about two pounds. The downhill model is the
Bellistic
, a fiberglass model with a full chinguard. Some Bellistics were recalled in 1999 for strap problems. The BMX models are the Rhythm Pro with chinguard (the Bellistic in different graphics) or the Qualifier Pro with an open face design. Prices are $125 for the chinguard models and $90 for the Qualifier Pro.
Bell's entry into the skateboard field is the Vert XT pro, with the rounded, smooth exterior favored by skateboarders and an expanded polypropylene (EPP) foam liner that is rated for multiple impacts. Colors are bone, red and black. Unless we missed some tricky renaming, this is the only helmet that Bell markets through both bike shops and the mass merchant channel. It is also marketed in a box with only "Aggressive Skate Helmet" on the outside. Unfortunately this one also has a sticker inside that says " Bell Sports certifies that this helmet complies with the requirements of ASTM Helmet Performance Standard F1492- 93 except for Section 8.0 Clause 8.5- Area of Required Coverage." Helmet standards are standards: you meet them or you don't. The manufacturer is admitting that this one does not, but still has the standard named on the sticker. Bell has broken new ground here, and another manufacturer has since followed suit. ASTM responded to this outrage by adding language to the standard specifically prohibiting partial compliance, a clause previously thought to be unnecessary. We don't know why a consumer would buy a helmet that says it does not meet the relevant standard, and can only hope that whatever its other merits this one bombs and results in lawsuits!
Consumer Reports
Consumer Reports did not test bike helmets for the 2000 season. Among Bell's 1999 models they liked the Evo Pro 2, now discontinued.
Cheaper Bells
Bell has another entire line of 18 low-priced helmets sold at discount stores and mass-merchant outlets. They are sometimes discontinued models from their bike store line, and generally have low-end graphics, chintzy fit pads and cheaper packaging. But the ones made in 2000 meet the CPSC standard, so they provide fine impact protection, able to meet testing that goes about a half inch further down than in the older ASTM versions. (If you find one of the old ASTM-only models it would be a lot cheaper, but the extra coverage is worth the higher cost to most consumers, since a significant number of impacts can be expected below the ASTM coverage line.) The rounded profiles we consider optimum will persist in this line for years to come, since they are cheaper to produce, and the thicker foam may actually provide better impact protection than some of the sexier, thinner, more expensive Pro models. This line sells for low prices: $8 to $30. Safe Kids sells them to their chapters for $7.50 each. Because of Bell's name recognition, they are among the best sellers in the low end market. Check our
page on inexpensive helmets
for further info on sources for low-cost helmets from various manufacturers.
Bell has discontinued their 53-foot tractor-trailer display, so it will not be coming to an event near you in 2000.
On January 25, 2000, Bell announced that riders can trade in their old helmets and get $20 off the price of a new one. The details are available on Bell's website.
In sum, Bell is still the largest and most successful bicycle helmet manufacturer. With their brand recognition they are still the one to beat. We are pleased that certifying the Kinghead to the new CPSC standard during the past year shows that their corporate culture still retains some of the "our job is to protect the rider" flavor the company grew up with.

Briko
Briko is an Italian company who began breaking into the U.S. market in 1998. They have an innovative rear stabilizer design with stickers inside showing an adjustment scale on each side, making it easier to balance the two sides. Only their top model is inmolded. Their helmets are not available in the US this year. For comments on their line please see our writeup on
Helmets for 1999
.
Byke Ryder helmets are the former All American line, which was purchased by KR Industries some time ago. The once extensive line has been reduced to two, including one toddler model and one adult model available in Football logo graphics, an earth map and more. Both have a smoothly rounded exterior shell and minimal vents. They are marketed through discount stores at prices of $19 to $30.
Cateye will again not be selling their helmet line in the U.S. in 2000, but they do offer it elsewhere, primarily in Europe. They still have six models on Snell's B-90 certification list.

Concord
Concord Arai Pvt. has few bicycle helmets, but still has two models on Snell's B-95 list: the Concord adult and youth helmet and the PD-800. As far as we know they will not be marketed in the US this year.

Cyclelink
Cyclelink comes from Cycle Acoustics, who make a wireless intercom for bicyclists that can be mounted on the helmet. Or you can buy a Snell-certified helmet from them with the two-way radio built in. The microphone boom arm has a breakaway mount, the helmet has an exceptionally smooth outer profile, and one of the models has a range up to two miles. Could be just the thing for parents towing kids in a trailer.
This German company with an Italian name has an extensive line but is concentrating on fewer models for the U.S. market. They advertise that the "soft shock" liner on some models "can absorb 25% more impact than the material used in 1996," whatever that means. They use it on the Maniac, Twister, Mountain Champ and V1. Some models have a suspension system called the Head Ring with an adjustable head band similar to the old Bailen of the 1980's to adjust sizing.
Mountain Maniac and Road Maniac: A hyper- vented helmet with sharp shell lines and the usual rear shelf projection. Inmolded. The same helmet, with a very short road visor or a longer mountain bike visor. Protection in the rear comes down low enough to require an arch cutout for neck clearance. Bright yellow, orange and white, along with black. Retail is $140. The catalog says: "What are you -- CRAZY? We hope so because this helmet was designed for you...The Maniac encourages you to push the limit and should not be used by people with weak hearts."


Twister: A much better rounded helmet with fewer vents than the Maniac. Available with a visor as the Mountain Twister. Inmolded. We are not fond of the "lip" in the front that looks like a tiny visor.


Mountain Champ: Next down in Cratoni's lineup is not inmolded, but has the angular shell lines of the hypervent helmets and large rear vents. It also uses the "Soft Shock" liner and has Cratoni's "Quick Turn" adjuster on the rear stabilizer. Has a visor, comes in part-black, with the other part either red, yellow or blue. has mesh protecting the front vents from insects.


Champ: Appears identical to the Mountain Champ except for the visor, but the catalog says it does not have the Soft Shock liner, and it has the internal Head Ring adjustable fitting system. Has mesh protecting the front vents from insects.


Tourismo: A youth helmet with elongated lines and a rear projection. Has mesh protecting the front vents.


Tourismo Evolution: We would call it evolution, but to some it will appear to be a throwback: a very well-rounded smooth-shelled helmet with the Head Ring adjustable internal sizing ring. Would be well suited for a spare "guest" helmet. "Affordable." Has mesh protecting the front vents. Unfortunately, the Cratoni catalog does not list CPSC among the standards it passes, so it may not be available in the US market.


Fox: A child helmet with reasonable vents and the adjustable Head Ring one-size-fits-all suspension. Rounded shape but with a molded in visor. Has mesh protecting the front vents. Sells for $30.


Fun: Another child model. This one has some nose protection from a molded-in visor. Has the Quick Turn rear stabilizer adjustment. Has mesh protecting the front vents. The catalog does not list CPSC among the standards it passes, so it may not be available in the US market.


V1: Cratoni's downhill racing model with full chinbar, a fiberglass/kevlar shell and a visor bolted on. It comes in some screaming colors and a full chrome version, has mesh protecting the front vents and sells for $295 (down $35 from last year). The catalog does not list CPSC among the standards it passes, so it may not be available in the US market.
Diamondback has a full line for bike dealers, including a BMX helmet similar to the Bellistic with vents and a full chin bar, in sizes extra small through large, retailing for about $70. They also have a very well- rounded freestyle skating helmet with CPSC certification retailing for about $30. Their helmets are made in China.

Ecko
For 1998, Ecko had BMX racing and skateboard helmets with ANSI stickers but no ASTM certification. The shells were fiberglass, with reasonable prices for BMX at $129 and $139 for the full-face model. Visors are snap on, and designed to pop off in an impact to avoid a snagging hazard. Sizing is U.S. 6 to 7 3/4. Ecko also distributes the RAD, billed as a multisport helmet. It has very small vents and a very well-rounded exterior surface, but we don't know what standards it might meet. We have not seen their 2000 line yet.

Edge
We have not seen the Edge line for 2000. They had the
Odyssey
for 1999, with Snell B-95 certification. It is a hyper-vented helmet with a nice round profile similar to the Giro Helios, produced by US Foam Co. It is inmolded, and retails for $85. The others in their line are BMX helmets by Troy Lee Designs, with hot graphics and the signature Troy Lee bolted-on visors. The TL COMP-RF has a removable chin bar and retails with a chrome finish for $250, while the similar non-chrome model is $150. The TLCOMP, a BMX helmet without face protection, retails for $120.
Epsira Oy
Epsira Oy is the Finnish manufacturer of Knock helmets, advertised as CE approved and supplied to such organizations as the Finnish postal service (in very visible yellow). Their 1998 designs appear to have nicely rounded contours. One model has reflective chin straps, a new feature we have not seen before. Epsira Oy has other EPS products and some info up on EPS. We are not aware of a U.S. distributor for their products, and have not seen their 2000 line yet.

Fox
See AGV above.
Free agent has one model, a very well-rounded skateboard helmet that comes in one size shell with three different sizes of liner. It was said to meet the CPSC standard for bike helmets. It is distributed to bicycle dealers by KHS Distributors and retails for $30 in standard colors or $35 in chrome.

Gear
Gear Helmets is located in Malaysia, and has a line of six helmets, mostly for toddlers or youth. They do lots of cartoon character graphics, including Looney Tunes, Thomas the Tank and Winnie the Pooh.

Giro
In its third year as a subsidiary of Bell, Giro's production facility has been moved to Bell's plant in Rantoul, IL, and the two have built a new deluxe joint test facility taking up part of Giro's factory. Giro still seems to have retained its independence in design, and their helmets still have a unique fit. Almost all Giro models show the same tendency toward squared-off lines that we moaned about in the introduction. Every one except the two toddler models has the "shelf" effect in the rear posing a potential snagging point in a fall, although they sharpness of the shelf varies, and the newer models have it less pronounced. Last year Giro dropped its hook-and-loop visor mounts, which we considered ideal, in favor of short plastic pieces that plug into the shell and should pop off when needed. This year Giro has reflective surfaces on the rear stabilizers of some of its models, an ideal place because the surface is more likely to be pointed directly back at the cars behind than the surface on the helmet itself. This year Giro dropped the Helios model that started the "hyper-vent" trend in 1997, but added four new models.
E2: The new top of Giro's road line, with squared off lines and huge vents. It has inmolded construction. The lines are somewhat more rounded than Giro's 1999 models, but they have used one very pronounced rear "shelf" projection that looks as if it were designed to hook something in a fall. This one sells for an eye-watering $160 retail. It comes in very visible yellow and white or in dark green.


Exodus: Formerly the top of Giro's road line, essentially a more squared-off Helios, with a pronounced shelf projection at the rear. It has inmolded construction and sells for $125 retail ($25 less than 1999).


Boreas: hyper vents create a skimpy interior foam contact surface, and this one unfortunately has rear "prongs" that stick out about 30 mm, which should not be allowed under the ASTM or CPSC standards, but is. Inmolded construction. Retails for $150. The white and yellow/orange models are very bright and visible.


Hammerhead: Basically the Switchblade downhill helmet without the chin guard option. It has sharp lines, but it is nicely rounded in the rear, unlike many Giro models, without the aero shelf. Inmolded construction. Retail price is $100.


Gila II: Redone for 2000, this one now has inmolded construction. It has some of the rear shelf effect, but is much more rounded than some Giros. Retails for $75, the same price as the 1999 Gila with a taped-on shell instead of inmolded. It also has some reflective material on the rear stabilizer.


Eclipse: A new 2000 design, Eclipse a rounded exterior that ends in a severely pointed shelf projection in the rear. Inmolded, retails for $100.


Stelvio: Top of Giro's taped-on shell line (not inmolded), this one was introduced in 1999. The construction method means the vents are a little smaller and the contours a little more rounded, but the Stelvio still manages to have a moderately pointy rear shelf. Retail is $50, down $10 from last year. (Giro's lower end helmets are very similar in appearance, so some of the "2000 models" could be just shuffled from the 1999 line.)


Mojave: Became Giro's $55 helmet as the Torero was lowered to $45. Better rounded profile than most Giros. Among other colors is something described as "reflective white."


Torero: Similar to the Mojave or Gila, with fewer vents, a taped-on shell and a more rounded profile. Comes in a nice bright yellow, among other colors. Retail is $45.


Laguna: Reasonably rounded, with the minimal rear shelf and a $35 price tag.


Riviera: A rounded design without a visor and selling for $30, Giro's lowest price.


Livewire: A very stylish helmet for juveniles 8 years old and up, shaped like Giro's adult models and selling this year for $40 ($45 in 1999).


Wheelie: A kids helmet for those who are old enough to pedal. Has reflective graphics on some models and a normal visor. $30 this year ($35 in 1999).


Minimoto: A toddler helmet, but vented. Has a foam visor and retails for $30 this season ($35 in 1999).


Mad Max: An all-out downhill racing helmet with a carbon fiber layer on its chinbar, lower shell and a beautifully rounded exterior, marred only by the bolt on visor. Weighs over 2 pounds, costs $350.


Switchblade: Giro's lighter weight helmet for downhill racing with the optional chinbar lets you use it on the road without the face protection. It has larger vents than other downhill helmets, and an in- mold shell. The rear is squared off but does not have a "shelf" projection. It retails for $180.


Ravine: Giro's ski helmet, which they believe will meet the ASTM ski helmet standard when it is published (Hopefully this year. We said that last year.).
In all, Giro continues to offer an impressive line of high end helmets, and continues to promote them with racing connections.

GT/Schwinn
GT has merged with Schwinn but their helmet lines are still separate this year. GT incorporates some helmets made by Troxel into its full line of bikes and bike shop accessories, offering dealers additional discounts on bikes if they also carry the helmets. The line is extensive, and all are ASTM/SEI certified. GT's mid- priced helmets have nicely rounded profiles, and may be worth a look for that reason. GT's visors are attached with hook-and-loop material so they flip off easily in a crash. All GT models have at least some reflective material in the back and front. For 2000 the company has a $10 crash replacement guarantee.
Pegasus: GT's flag-bearer is a co-molded (inmolded) helmet with vents everywhere and the kind of sharp lines and projections in the rear that we don't appreciate. Still, it's comparable to the Bells and Giros, and the price is only $80, down 20% from 1999.


Teros: A much more rounded helmet than the Pegasus, with fewer vents and a more reasonably rounded rear "shelf." inmolded. Retail $60.


Prowler: At $40, a nicely rounded design with very little rear shelf and a visor, molded in the shell and made of EPU foam rather than EPS. (Very likely made in Taiwan, since that is where EPU is used.) There are not many inmolded helmets at this price point. EPU has a very fine cell structure with a little less impact "bounce" than EPP, which is good, but it is also a tad heavier.


Orion GT's entry level helmet, and one of their best-rounded designs, introduced in 1999. Retails for $30.


Lightning: A youth helmet that looks slick but has a visor that is part of a single integrated shell, preventing it from flipping off easily in a crash. $35 retail.


`LiL Thunder: A toddler helmet with vents, Disney graphics and a very nicely rounded shape. Has a rear stabilizer done in cloth rather than plastic to respond to parents' unwillingness to put a plastic stabilizer on a small tot. $30 retail, down $5 from last year.


GT Stunt: The hard-shell round design pioneered by ProTec in the 1970's and beloved of skateboarders. Demonstrates that with the right foam and shell this design can meet the CPSC standard. The roundest helmet in GT's line. Heavy compared to their other models.


Dyno BMX: A standard BMX design at $90 with a chinbar for face protection. Visor bolts on. No vents.
With the exception of the Pegasus it seems to us that the GT's line is still more rounded than some others, and offers some interesting helmets.

Hallbay Pty Ltd
Hallbay's line is mostly Snell B-95 certified, including the
007 Sphinx, 951, 961
and
961g
. The
111
and
111 LX
are certified to B-90. This brand is seldom if ever seen in the U.S. market.
Hamax
Hamax is a Scandinavian company whose line we first saw in 1997, but they were not at Interbike this year and we don't know if their line will be marketed in the US this year.

Happy Way Enterprises
This Taiwanese manufacturer has a slick looking line of Expanded PolyUrethane (EPU) helmets that are Snell B-95 or B 90 certified. Some are fully inmolded models, while some have glued-on shells, but prices are the same at about $40 retail. Adding a rear stabilizer or 3M reflective tape adds about a dollar and a half each. Although the EPU makes the helmet a little heavier than a Giro or Bell, if this company had more name recognition it would be a real contender. Happy Way sells mostly in Europe, but here they sell to importers and OEM's with their own brands, and are looking for distributors in the US. Their Snell B-95 models include the
H-102, H303, H-305 (size medium only), H-506
and the
Little Pal
toddler model.

Headstart Technologies (Canada)
This Canadian manufacturer of EPP helmets has a number of models on Snell's B-90 and B-95 certification lists. Their B-95 models included the
180, 380, 480, 580, A180, A280, A380
and
Infant Bicycle
. Price points for the line are low, and the EPP makes them multiple-impact helmets.

Headstart (Malaysia)
This Headstart is located in Malaysia, and should not be confused with the Canadian manufacturer called Headstart Technologies. Malaysia's Headstart is represented by Damar in New York. They have seventeen models on Snell's B90 list, and thirteen more on the B- 95 list. Many are graphic variations, including cartoon characters.

Helmets R Us (formerly Century Cycles)
Century is a West Coast distributor of bicycle products, and has taken on the Zhuhai Safety lines labeled T-Star and Celuk to sell to dealers or non- profits at very low prices. They will take small orders. The taped-on models go for $5 each, with skateboard helmets at $6.50 and downhill mountain bike helmets that look identical to major brands for just $30. See the writeup below on Zhuhai Safety for descriptions. They are certified to Snell's tough B-95 standard. We have a page up on
inexpensive helmets
with information for contacting Century.

Hong Kong Sports
HKS has fifteen helmets on Snell's B-90 list, and two certified to B-95, including the
HMT-105, HMT-201 (medium only), HMT-J08 (small)
and the
V-01 (small only)
. They manufacture for a number of U.S. brands, including Schwinn, but we do not have any info on their own branded line, if they have one.
J&B's line for 2000 has models beginning at about $7 retail to $40 tops. One has a full lower shell at $15, unusual at that price point. A new inmolded model runs about $40. Most of the profiles are the well- rounded ones we favor. Colors are solid, with some metallics, including a skateboard helmet in full chrome for $40. Their toddler helmet goes for $15. Their BMX model has bolted-on visor and full face protection. J&B has an active program for schools and non-profits either through a local shop or direct. Their helmets are made in China.

Kent International
A supplier of low-cost helmets to toy and discount stores, Kent has 18 models on Snell's B-95 list.

Knucklebone
Knucklebone sells accessories and clothing for BMX. Their fiberglass-shell BMX model has a full chinbar, no vents and a price tag of $110. It has the requisite bolted-on visor, and the catalog says it meets the ASTM and CPSC bicycle helmet standards. Their
Jumper
model is the familiar skateboarders profile, exceptionally smooth and round, with a painted and clear-coated shell that includes a chrome model and another in "black chrome." It retails for $40.
Lazer is produced by a Belgian company, Cross S.A., with a full line of bike helmets seldom seen here in the US. Their helmets are interesting, and their advertising is a little different: "..Quick Grip System" allows everyone to adapt the helmet to his morphology, even when riding your bike. Loosening a bit during hill climbing and come back to a firmer grip during down hill can be done in a snap."
Millennium is a new model for 2000, retailing for $125. It has a reasonably rounded profile, marred by strap anchors that project above the shell and one vent that has an arrow-shaped upper lip. It is inmolded with large vents. One of the colors is a nice bright yellow.


Protex is another new model for 2000, and is also inmolded. It has a very nicely rounded profile, but again is marred by hard strap anchors that poke out above the plastic.


Revolution is another 2000 design, again with the external strap anchors, but otherwise a well- rounded design with large vents inmolded.


Performance is an $80 inmolded model with fewer vents and the external strap anchors. It is new for 2000.


Ultrax has an internal aluminum ring to reinforce the foam, since it is not molded in the shell. The profile is admirably rounded, and the strap anchors are internal, so this helmet has one of the most desirable profiles available. It retails for $65. The Ultrax 240 model has mesh covering the vents to keep the bees out.


Compact a nicely rounded profile that unfortunately has Lazer's external strap anchors. It retails for $45


Tonic is a $35 nicely-rounded design, but again has the external strap anchors. It comes in extra small to extra large sizes covering youth through adults.


Max is a toddler helmet with nice graphics and a molded in visor that sells for $25.


Kid Phoenix is an $18 toddler helmet, matched by the Phoenix Senior for adults at $30. The senior is a very well rounded design with no external strap anchors.


Excalibur is a vented BMX model with bolted- on visor that sells for $200, or in carbon fiber with an aluminum reinforcing ring as the Factory Rider for $300.


Lazer's replacement program has some drawbacks. It provides for replacement at 30% of initial cost only during the first two years of use, and does not cover the BMX helmets "because of the risk inherent to their discipline."
This was our first real look at the Lazer line, and we found the helmets interesting. You will not see their aerodynamic
Chronos
model for time trialing here, since the catalog says: "Don't wear this helmet for impact protection: it does not meet any safety standards."

Limar
Limar is a European brand marketed in the US by Trialtir. Their models all have bright colors available and nice graphics.
F-107 and F-107+: The F-107 was introduced in 1999, followed by the plus in 2000. For this year both are inmolded, which they call a "micro- fused outer shell." Both are typical hyper vented models, more rounded than most, although with a pronounced rear "shelf" point. Unfortunately both have an external bump for the strap anchors typical of the Lazer models described above (but the F-107 is not one of Lazer's models). The plus model has a shell on the lower section where most helmets are just foam, and includes a detachable visor.


F-104: this one is nicely rounded but still has the rear shelf effect. It has moderate ventilation and is not inmolded. It retails for $70.
Limar's F-40, Quack and Downhill helmets no longer appear in the Trialtir catalog. Trialtir will replace a crashed Limar for the first two years for $20.

Louis Garneau
Louis Garneau is a Canadian designer whose helmet line has grown over the years to a very impressive collection, with the exception of the new 2000 models. Some of their helmets are inmolded. On others they use polypropylene lower sections, and some have a lower shell to protect the foam from nicks (reducing sliding resistance as well). Visors are mounted with hook-and-loop fasteners to facilitate flipping off easily in impacts.
For 2000, Louis Garneau has added two new models with only partial shells, leaving EPS foam exposed in a technique pioneered by Bell some years back and dropped by them this year. Why any responsible helmet designer would do this is beyond us, given the evidence that plastic slides better on pavement in an impact than foam. (Check this link for more on that) We would recommend steering away from those two models, Le Mask and Wings.
Genius: The top of the line, introduced in 1998, it has a multitude of vents, too many ribs on the shell to suit us and a price tag of $119. It is molded in the shell. Small sections of the outer shell have a rippled washboard effect, which can only be for styling. But the rear shelf effect is better than most, and as other designs have appeared with even more squared-off lines and sharper ribs the Genius has become relatively less objectionable.


Le Mask: A throwback to the days when helmets had no shells, a look that Bell introduced with their Evo Pro and dropped this year. Large areas of foam are not covered in plastic, and if you hit on one of those areas it will not slide as readily as plastic would. A good design to avoid, retailing for $70.


Globe: A much better rounded design than the upscale models, although the ribs are still pronounced. Chosen by Consumer Reports as a Best Buy in the December, 1997 supplement to their 1997 article on helmets. It was the only helmet in the June, 1999 Consumer Reports article that achieved the highest impact rating. Taped-on shell, retails for $50.


Roller: Garneau's new 2000 model for in-line skating helmets is inmolded and has a beautifully rounded profile. The vents are skimpy for hot weather, and the colors are drab or black, but if you are crashing at high speed this is the profile you want.


Buzz: Garneau's downhill helmet, like all their models, is their own unique design. It is molded in the shell with Kevlar reinforcing and has vents covered with mesh to keep the bees out. It has a full face guard with vents and mesh of its own. The visor attachment is hook-and-loop. The price is an eye- watering $350.


Wings: Somewhat similar to the Genius, but styled for mountain bikers. Hyper vents. Molded in the shell. No shelf in the rear. Unfortunately it has foam areas on top that are raised above the plastic shell, an unnecessary style feature that could increase sliding resistance in a fall. Garneau's best seller at $75.


Alien: Sharper lines and more but smaller vents, again for Mountain bikers and again with a taped- on shell. Retails for $60.


Century and Century V: Introduced in 1999, with a very nicely rounded profile. Reasonable vents, taped-on shell, very light weight. The V model has a visor. Retail is $40, or $35 without the visor.


Pro-Am and Pro-Am V: New for 2000. Has lots of ribs, including some that are not even associated with vents but were just thrown in for style where a smooth section would have been better. Retails for $45 with visor or $40 without.


Le Tour and Le Tour V: New for 2000 and nicely rounded, although it still has some of the "washboard" ripples in the shell where they are not functional. Retail is $35 with visor and $30 without.


Grunge: For the juvenile crowd aged 6 to 16, this one has a very well rounded shell and graphics including flames and stripes of all stripes. Retails for $37.


Terrible: Toddler helmet no doubt named for the French phrase "l'enfant terrible." Has a molded-in visor and taped-on shell. Graphics include VW bugs, cows and a police car. Designed for kids 5 to 10. The retail price is $35.


Baby Boomer: Toddler helmet for the 5 and under crowd, round and smooth, with a few vents and cute graphics, including the black and white Felix graphic that is styled after Louis' own Dalmatian, and Felix-driving-a-Volkswagen. Is this model named for "baby fall down go boom?" Retail is $35.


As usual, Louis Garneau has cut some models from the 1999 line, including the Rock and Road, Ozone, Space, Space V, Saturn and Saturn V. Unfortunately they were among the roundest, smoothest models.
Louis Garneau still has a free replacement guarantee.
An offshore manufacturer for whom we have no info. They have three models on Snell's B-90 list, the
Aerogo 338, Aerogo 339 and Aerogo 388
. The
Aerogo 368
is Snell B-95 certified.

Her Sheen Enterprise
This Taiwanese firm makes a line of five helmets in Expanded PolyUrethane (EPU). They have been making car parts for ten years and recently branched out into helmets. Colors are mostly drab, but there is a white or stars-and-stripes model available for most models. The profiles are nicely rounded, and prices are down in under-$10 range FOB Taiwan. Her Sheen was looking for a US distributor when we last talked to them.

Mongoose (Brunswick)
We missed Mongoose at Interbike, so these comments are based on their 1999 line. The Mongoose line is made for Brunswick and Service Cycle in China. All models have nicely-rounded shapes, taped-on shells and visors. They range around $20 to $25 retail, and include the Air Flow, Echelon, Rage, Small Wonder (child), and two BMX models, one full chin bar version at $80 and an open- face model at $75. Both BMX models have bolted-on visors.

Motorika
In 1997 Motorika introduced its folding helmet called the Snapit. This is a true hard shell helmet made with GECET foam and a nylon glass-reinforced shell. The shell is made in two pieces and designed to fold one half into the other in a crescent-shaped form much like a piece of cantaloupe. It comes with a hip-hugger belt so you can wear it after the fold. It has ASTM certification, and we don't know if it is certified to meet the 1999 CPSC standard or not. It weighs 16 oz, not bad for a hard shell, but about 6 oz more than most of the helmets on the market today, and it feels heavy. The introductory retail price was $79, which seemed high to us for a niche product. We did not like the ridge where the two pieces meet when the helmet is unfolded in the wearing position, which we feel could present a potential snag point For that reason alone would not recommend this one. We have not heard from Motorika what their 2000 plans are.

Nuovo Meyster, SPA
Nuovo Meyster is an Italian company hoping to bring its helmets to the U.S. market. Their line will sell in mass merchant outlets, but when we met them at Interbike in 1997 they had not yet certified their line to any U.S. standards. They had a Stelvio model with a very well-rounded profile, but almost no vents that will sell for $30 to $40, and a child helmet called the Flash. We do not know their marketing plans for 2000.

Odyssey
Odyssey is a BMX products company. Their BMX helmet is the Apache, with a fiberglass shell, full chin bar, some vents, and (unfortunately) a bolted-on visor. The helmet is made in Hong Kong, and retails for $95 in normal finish or $130 in full chrome.

OGK
See Qranc below.

Oryx Safety
Oryx has one model on Snell's B-90 list, the Vertex. We are not in contact with them.

Polisport
This Portuguese company has one basic helmet shape sold in four different levels of graphics, visors and trim for $15 to $36 retail. They all have well-rounded contours but a modest rear bump in the shell for a fitting that holds the strap. The models we saw at Interbike in 1999 had CE (European) certification but had not yet been tested against the more stringent CPSC standard. They were not at Interbike this year, so we don't know their plans for 2000.

ProRider
ProRider is a supplier of BMX and bicycle helmets from China and is also the home of the CNS (Children - N - Safety) National Helmet Program,
selling directly to schools and non-profit organizations
. They have a multi-purpose helmet certified to Snell's N-94 multipurpose standard. They also have eight bicycling-only models certified to Snell B-95, all with nicely rounded profiles. Their BMX helmets have a full chin bar, the usual fiberglass shell and the usual unfortunately bolted-on visors.

Pro-Tec
We have not seen a Pro-Tec catalog or company rep from its current owner, Mos Sports, but there were at least two of their models shown by others at Interbike in September, 1999. One was their classic round skateboarder's model with squishy foam, the second had an EPS liner. The shape is round and smooth, and the style is the classic skateboarders helmet introduced by Pro-Tec under other ownership back in the 70's.

Prowell Helmets
Prowell is a Taiwanese company producing a line of helmets in EPU foam, two of them appearing on Snell's B- 95 certification list. Several of their models are molded in the shell and have a very high quality appearance, seeming solid (if a bit heavy) in the hand, including the new F-22 in their 2000 line. Their Raptor has a spring-loaded read stabilizer. Most of Prowell's models retail for about $30. The company is actively seeking distributors in the US for their products.

PTI
Originally known as Protective Technologies International, PTI is a very large producer of bicycle helmets, mostly marketed through discount stores such as the Sports Authority and Toys `R Us. We have not yet seen their 2000 line, but we find PTI helmets in discount stores at prices in the $10 to $20 range.
We have not seen OGK's Qranc line for 2000. The 1999 line featured the ReaQtor, a thoroughly updated, hyper-ventilated, helmet with extensive rear coverage and a shell covering the lower portion. The exterior has squared-off, sharply-defined lines and the rear shelf projections that we hope the ASTM standard will eventually prevent. It retails for $140 and has Snell B-95 certification for the Large and Medium sizes, while the Small is only Snell B-90. There is also a downhill model called the Kamaquazi, with facial protection, Snell B-95 certification in all sizes and a retail price of $269.

Ritchey
Ritchey's Tomahawk model is Snell B-90 certified, and should be of interest primarily to people who ride Ritchey bikes.
The European manufacturer is new to the US helmet market for the 2000 season, although they have been doing sunglasses and sporting attire under founder Rudy Barbazza since 1985. We are not sure which models you may find in the US market, since some of their racing helmets could not meet the CPSC standard and would not be legal here. In general their models have flowing, graceful lines in the rounded contours we favor. Most have no extreme shelf effects in the rear, although some do. As you move toward the lower end of the line the shapes improve to rounder, smoother, safer designs. Some are inmolded. Visors are attached with hook-and-loop. Rudy Project has some interesting innovations, and we hope they will find US distributors this year.

SCS (London) Ltd
Although this company has six models on Snell's B-90 list, they apparently do not market in the U.S.

Schwinn
The Schwinn helmet brand returned in 1999, represented by new models made for Schwinn in China, probably by Hong Kong Sports. Visors are hook-and-loop mounted. Some or all are Snell B-90 certified, so check the sticker inside.
Typhoon 1.0 has the most vents, comes in red or blue and retails for $50. For 2000 it is molded in the shell, unfortunately with some raw foam showing that is not covered by plastic shell.


Typhoon 2.0 has smaller vents and lacks a rear stabilizer but retails for $33. Colors are red, blue and silver.


There is a youth model and a toddler helmet as well, both Snell B-90 certified, retailing for $30 or $35. There is also a skateboard model, with an EPS foam liner, for $40. Schwinn packages sun glasses with some of its youth helmets.

Shenzhen Hezhen Bicycle Inc.
A Chinese manufacturer located in mainland Shenzhen. We have not seen their line, but they have informed us that they produce 15 models, including some BMX style with fiberglass shells and some rated as bicycle/skate helmets. They say they already export to 20 countries, including the US.

Shenzhen Qukang Industry Development
Although we have seen their 2000 line, this Taiwanese manufacturer makes both EPS and EPU helmets. Their EPU helmets are inmolded, and are offered with or without a plastic shell (EPU will form a "skin" in the mold similar to a shell in any event). The styles are well-rounded, and venting is not extreme. They have a fiberglass BMX model. Dealer prices for the standard bicycle helmets in quantity were under $5 for the 1998 year, but we don't have current pricing. You may see their helmets with other brands on them.

Shih Kwang International
Shih Kwang makes a helmet with a reading light molded into the front foam, fitting flush with the front lip of the helmet, and a rear led flasher embedded the same way. It retails for $40.

Specialized
Specialized is one of the major U.S. helmet manufacturers and a supplier of a wide range of bicycles and components. Their 2000 helmets are all still certified to Snell's B- 90 standard (none to B-95). There were at least some changes in all of their helmets for the 2000 season, in part based on wind tunnel research on vent shapes. The Specialized catalog says that due to differences in riding speeds their road (racing) helmets have more and smaller vents than their "recreational" models with fewer and larger vents optimized for slower speeds. But whoever wrote that copy had not compared the Sub Zero road helmet and the Enduro Pro dirt rider's helmet, since they are exactly the opposite. Perhaps the differences are too subtle for us to follow. All models have reflective logos front and rear, but we were not impressed with the degree of reflectivity.
King Cobra and Queen Cobra: The top of the line has "mouth port technology" in the form of an air vent in the front where it will channel air to a sweatband. The shape is not smooth, although the pronounced ribs are rounded, as is the moderate rear projection. Inmolded, including the lower shell, "which in turn lets us reduce weight and maximize ventilation." Plastic rear stabilizer, snap-on visor. Retail is still $140. Picked by Bicycling magazine as the "Best Helmet" in their January, 1999 issue. The Queen Cobra is new for 2000, and features "a tasteful blue floral design developed by women racers here at Specialized for women racers everywhere."


Sub Zero: another inmolded design, but without the King Cobra's lower shell, this one has been in Specialized's line for some time. Has a moderate rear projection and the sweatband-level front mouth port. Retail price is $80, Specialized's cheapest inmolded design.


Enduro Pro: pitched as a King Cobra for the off-road racer, with a pronounced rear shelf and a visor. (We don't know why an off-road rider would want the "aero" design, but maybe it's fashion.) Molded in the shell, with a spring-loaded rear stabilizer. Retails for $90.


Enduro Comp: New for 2000, with a somewhat more rounded profile than the King Cobra, although it still shares with the Cobra a rear overhang that is not very well faired. Taped-on shell. Retail price is $50.


Mountain Man: Introduced in 1999, with a taped-on shell and sharp lines on the sides. Has a visor and that rear shelf, only moderately faired in. Retails for $40.


Airwave: a budget model introduced in 1999, with a taped-on shell, fewer vents and reasonably rounded lines and rear projection. It retails for $30.


Airwave Mega: youth version of the Airwave, again retailing for $30.


Kid Cobra: Even the classic round, smooth toddler helmet has been given squarer lines, but not to an extreme. Taped-on shell, vents, cute graphics, reflective material in the rear. Reflectors actually make more sense in adult helmets, but we are glad to see them anywhere they appear.


Fatboy BMX Full Face: The title says it all - a fiberglass shell BMX helmet with the unfortunately bolted-on visor, no vents, and squared off lines infecting the chin bar design. The retail price is $100.


Specialized is producing announcements: radio ads and print samples, and has a $20 kit for teachers. The Specialized catalog again features their "No-fault Helmet Crash Replacement Policy," but tells you to call them at (408) 779-6229 to find out what that means. One cyclist who emailed them got a response that they are currently giving you a 20% discount on a replacement helmet.

Sportscope
Sportscope has just one model, introduced in mid-year 1999, but it is radically different from any other helmet in this review. Constructed of sections of foam closely connected by an inner mesh, the Sportscope helmet can conform to your head, perhaps solving some tricky fit problems. We had some initial doubts about a flexible helmet, but we have seen the lab test results proving that it meets the ASTM, CPSC, Canadian, Australian and European standards with no difficulty, and showing that the toddler size also meets the impact requirements for the Canadian child helmet standard, which has a lower permissible g level than U.S. standards do, requiring a "softer landing." The helmet also meets the Australian standard's requirements for point loading, so the edges of the foam sections apparently do not dig into your head in an impact. We don't particularly like the ridges on the surface of the helmet between foam pieces, preferring a smoother shape for better sliding on pavement. (See
Rounder, Smoother, Safer above
.) And one of our testers found that the Sportscope helmet he tried seemed comfy for about 20 minutes, then began giving him a headache, evidently from pressure where the edge of one of the sections of foam was contacting his head. So this one may not be for everybody, but if you have a particularly difficult-to-fit head it may be worth a try. Available at Sears, Sports Authority and other mass merchant stores for about $35.

Strategic Sports
Strategic Sports produces helmets for a number of U.S. companies with the U.S. company's brand, and have informed us that they shipped 1.5 million helmets worldwide in 1998. For 2000 five of their helmets appear on Snell's B-95 list and five more on the B-90 list, including a child model and a downhill/BMX helmet. We have comments on some models under the Action Bicycle brand above.

THH
Tong Ho Hsing sends its line to the U.S. through Sunbeam Trading Company of Vernon, California. For 2000 they have 11 bicycle helmet models in all shapes and styles, including some very nicely rounded adult helmets, a toddler helmet, two BMX models and a number of others that appear to be equestrian, skate or hockey helmets. One of their BMX helmets is actually certified to Snell's extremely rigorous M-95 motorcycle helmet standard. Three of their helmets are certified to Snell's B-95 bicycle helmet standard. The graphics tend to be plain, but these may be good values in the under- $30 price range.

Time
Time brought their helmets to the US in 1999. They are generally an up-scale supplier of bicycle accessories designed for racing or a racing image. We do not have their pricing for 2000.
Xirtes: the top of Time's line, molded in the shell, many vents, very little rear overhang, some pointy effect in the front, overall better rounded than some. Unique plastic strap stiffeners on the sides.


Kaos: for mountain biking, with a taped-on shell that does not permit the vents to be as extensive as the Xirtes.


AKTA: has one of the worst rear projection shelves we have seen. Comes in drab red or blue.


Kador: for five years and up, has a molded- in visor and taped on shell, with small vents.
Time lists their warranty as 12 months, but they don't say whether or not that covers crashes.

Trek
Trek supplies a wide line of bikes and accessories to dealers, and their helmet graphics are designed to complement your Trek bike. Their
Gary Fisher
subsidiary has the same helmet line with different model designations. Their line for 2000 has five models.
Photon: inmolded design with an inmolded lower shell as well. Squared off ribs, but the rear is much smoother than Trek's other models. Can be had in a bright yellow, but may be phasing out. Retails for $100.


Himal: an inmolded design with moderately squared-off lines and a small shelf projection in the rear. It has a lower shell as well, molded on for 2000, and one variation comes in blue EPS.


Airphoria: Retails for $50.


Tempest: Similar lines to the Himal, but with a taped on shell and no lower shell. Retail price is $45.


Vapor: Squared-off lines, some rear shelf projection, taped on shell, "new internal shape" and a visor for $35 retail.


Scout: A youth helmet based on the Vapor, with the addition of anti-pinch chin pads, selling for $35 with a visor.


Little Dipper: Infant-toddler model update for 2000 with more vents, better graphics, a soft rubber visor, an anti-pinch chin pad and a $35 price tag (up $5 from last year).


Trek has a one year free replacement policy for crashed helmets.

Troxel
Troxel sells its helmets under the Performance Headgear brand exclusively through GT. Check the GT writeup above. Last year Troxel also had a "multi-sport" helmet in the toy store near us packaged with wrist guards, selling for $7.99. It is certified to ASTM F-1447, which is the bicycle standard, not a multi-purpose standard.

Troy Lee Designs
Troy Lee has dropped its Vapor bicycle helmets for 2000 and concentrates on their traditional BMX line. Their carbon fiber shell Daytona BMX helmet has an "aerodynamic fin" at the rear, another entirely unnecessary interruption in the ideal smooth outer surface of a helmet. With vents and chin bar it sells for an eye-watering $490. Not including the optional larger Stingray visor at $22. Troy Lee also sells an add-on rear bump called the TLD Stabilizer, so you can add a bump to your smooth helmet for only $18 to $22! For their fans, Troy Lee graphics are second to none, and are used on other brands as well. But they continue to use bolted-on BMX visors, claiming that the plastic mounts will pull out if the visor is snagged, so if you wear one and crash, be sure not to catch your visor on anything.

TSG
This Swiss company was selling two models in the US for 1999, both skate helmets. One is similar in shape to the classic Pro-Tec, and sells for $25. The other, the Odin, has a more "bucket" shape and sells for $35. Both are admirably round and smooth. We have not contacted them in 2000.

U.S. Foam Company
We do not know this company, whose name indicates they are probably a molder of EPS. They have one model, the Edge, on Snell's B-90 list, and one called the Odyssey on the B-95 list. (See Edge Helmets above.)

Vigor Sports
Vigor Sports (Hong Jin Cycle Corp.) is a Korean company with a large and varied line of helmets, many of them on the Snell B-95 and B-90 lists. They are one of only two companies with helmets on the N-94 multipurpose list. For 2000 all have taped-on shells. Their BMX models mostly have bolted-on visors. Some of the 2000 helmets look like renamed models from 1999, but others are completely new.
V-Tec Sport: a reasonably rounded design with moderately large vents and a squared off shelf projection in the rear. Snell B-95 certified. Comes in bright yellow and has a snap-on visor. Retails for $35.


Slice Pro: Vigor's hypervent model has nicely rounded lines spoiled by a pronounced and unfaired shelf in the rear. Retail price is $35.


Lexus: Updated and not as smooth and round for 2000, this one is a "smaller size helmet for women." It has a pony tail port, and comes in extra small as well as medium and large. Retail is $35.


Saber Very nicely rounded profile with large vents for a taped-on-shell model. Retails for $30.


Nitrous NOX: Billed as an "all-weather helmet," but we don't know why, unless it is the visor. Made of EPU and molded in the shell, making it different from Vigor's other models, and making it likely that it is produced in Taiwan. Has large vents and an unfaired rear shelf. Retails for $30.


HPX: Nicely rounded profile, no visor, and has Snell B-95 certification. It costs $30 retail.


Duo: billed as a Multi Sport helmet, but is not one of the models certified to Snell's N-94 standard. It does meet the tough B-95 bicycle standard, however, and retails for $25.


Cyclo-V: Billed as a "recreational helmet" and priced at $22, this new for 2000 model has a round, smooth profile and moderate venting.


Avail: Probably the roundest, smoothest model in Vigor's line, and it meets Snell's B-95 standard, but it comes in only two drab colors. Retails for $20.


Li'l Tyke: A toddler helmet certified to Snell B-95. It has vents, a pinchproof buckle and an adjustable sizing ring. Comes only in xxs and retails for $25.


Zero G-1: BMX helmet with fiberglass shell certified to Snell's N-94 multi-purpose standard in both its full-face and open-face models. Convertible by removing the chin bar. Retails for $110.


Zero G2: Another BMX design with Snell N-94 certification, full chin bar, fiberglass shell and bolted-on visor.


Zero G3: Another BMX design, but with an open face and a rounder profile in the "shorty" style. Fiberglass shell. Retail price is $80.


Zero G-4: A youth BMX design with Snell N-94 certification and a full face chin bar. Plastic shell. Comes in XS, XXS and XXXS sizes. Retails for $110.


Vamoose: A downhill racing design certified to Snell B-95 with a Kevlar reinforced fiberglass shell and large vents. Retails for $95.


Rebel: Full face BMX and downhill with a plastic shell with vents and a bolted on visor. Retails for $90.


Contender: A new 2000 BMX model. Has a fiberglass shell with vents and a bolted on visor with twin bolts. Retails for $75.


10-80: A skating helmet design with the classic smooth, round exterior and an EPS liner.


Extreme Five-Forty: A skating helmet design with the classic smooth, round exterior and an interesting liner that combines squishy foam for multiple small impacts with EPS foam for the harder hits, requiring replacement afterward. Vigor says it meets the CPSC bicycle helmet standard, and list it as a bike, snow and skate helmet. Retails for $30.


Vigor still has an extensive line, and most of their helmets are still Snell certified. They have now introduced four ski helmets, including three on Snell's recreational ski and snowboarding list and one for downhill racing.

Zhuhai Safety
This Chinese manufacturer has an extensive line of bicycle and BMX helmets. Most are sold by others as house brands, including some of the best-known in the US, with others labeled with the Caluk or T-Star brand. Their numerous adult, youth and toddler models feature both nicely-rounded and sharply-edged shells. Some are inmolded, and some have lower shells. Two are on Snell's B-95 list, the
Series 08 and Series 08 9
. You can find their helmets at very reasonable prices for helmet promotion programs through Century Helmets (above).

Zuhai Star Safety
Zhuhai Star Safety, located in Zhuhai, China but a separate company from Zhuhai Safety above, produces one child model certified to Snell B-95. We are not in contact with them.