Folding Helmets
Summary: Folding bicycle helmets are easier to carry off the bike and could be useful for shared bicycle system users. There are some decent ones on the market, including some that meet US standards.
Folding a helmet can make it easier to carry, so users of folding bicycles have always found them appealing. Users of shared bicycle systems would like a collapsible helmet they could tuck into a purse or briefcase and pull out when they use one of the shared bikes.
Although a helmet may fold, if it uses conventional materials it still requires the same volume of impact foam. To manage the energy of an impact, the foam must be thick enough to give the head enough distance to stop in a controlled deceleration. So the helmet materials can fold, but the volume of material itself will be the same, limiting the compactness. In addition, the helmet has to maintain its structural integrity in an impact, requiring engineering skill and probably more expensive materials to construct. Designs that escape that rule may be coming, but are not on the market yet. Here is our page on
the constraints to making thinner helmets
.
The first folding helmet we know of that met the US CPSC standard was the
Motorika Snapit
, introduced in 1997. It was a clamshell design with one half folding inside the other. We did not like the external ridge left from back to front when it was unfolded in use, and the 16 oz. (454 grams) weight discouraged some buyers. It disappeared from the market soon after the turn of the century, but others have emerged:
Biologic Pango
Biologic's Pango appeared in 2012. The current design by
Biologic
has two sides that fold into the center. It does not meet the CPSC standard, so it is not available in the US market, but it meets the CEN standard and is sold in Europe.
Cairbull had a model they called the Fender (on Amazon the Ousta), with rigid ribs that fold inward. The ribs seem thin, and the gaps between ribs when unfolded appear very large, so we would like to see test results that prove that it passes a curbstone anvil test. The helmet is very light. The shell is glued to the liner, and on our sample it had already separated when the glue failed in one section (third photo below).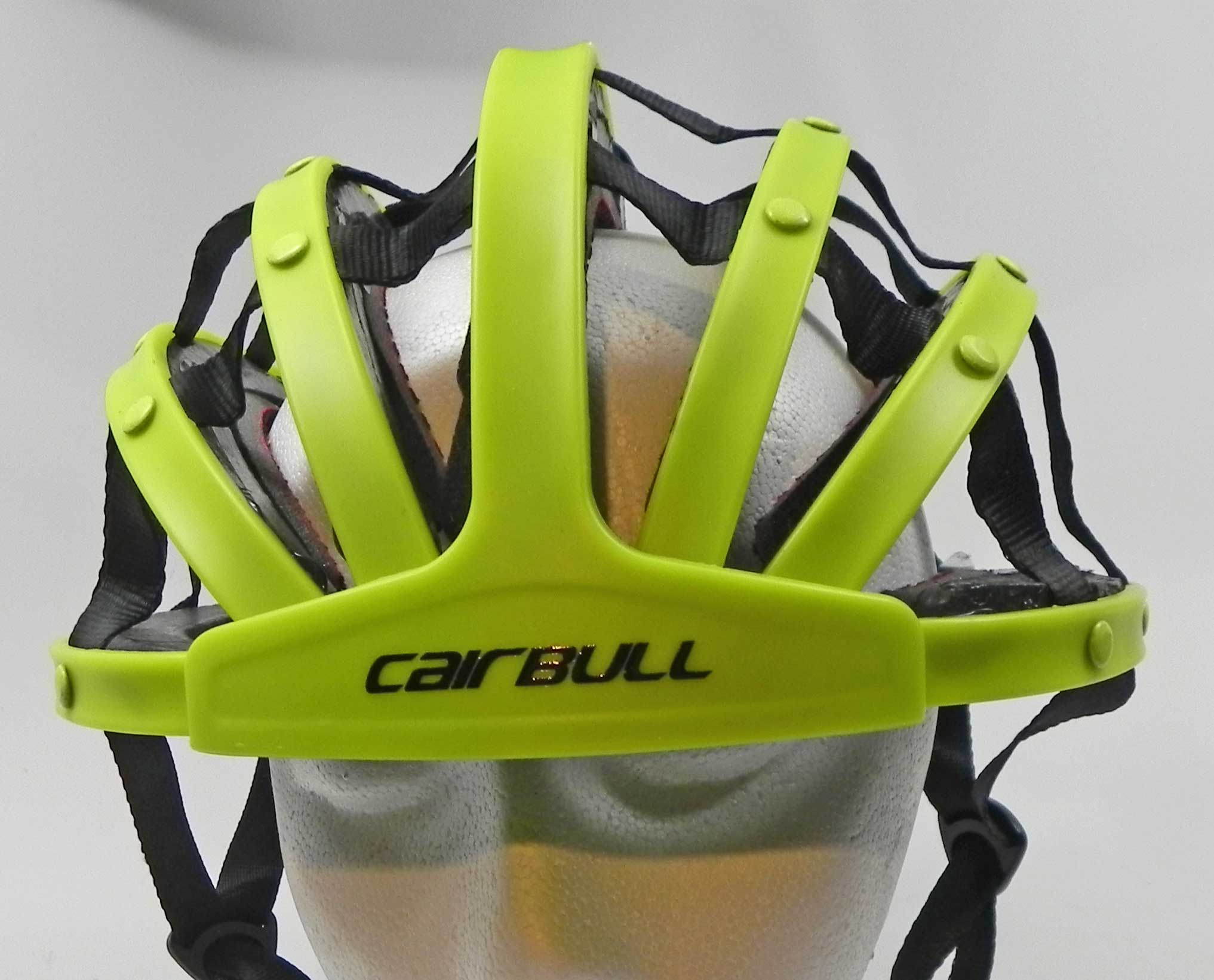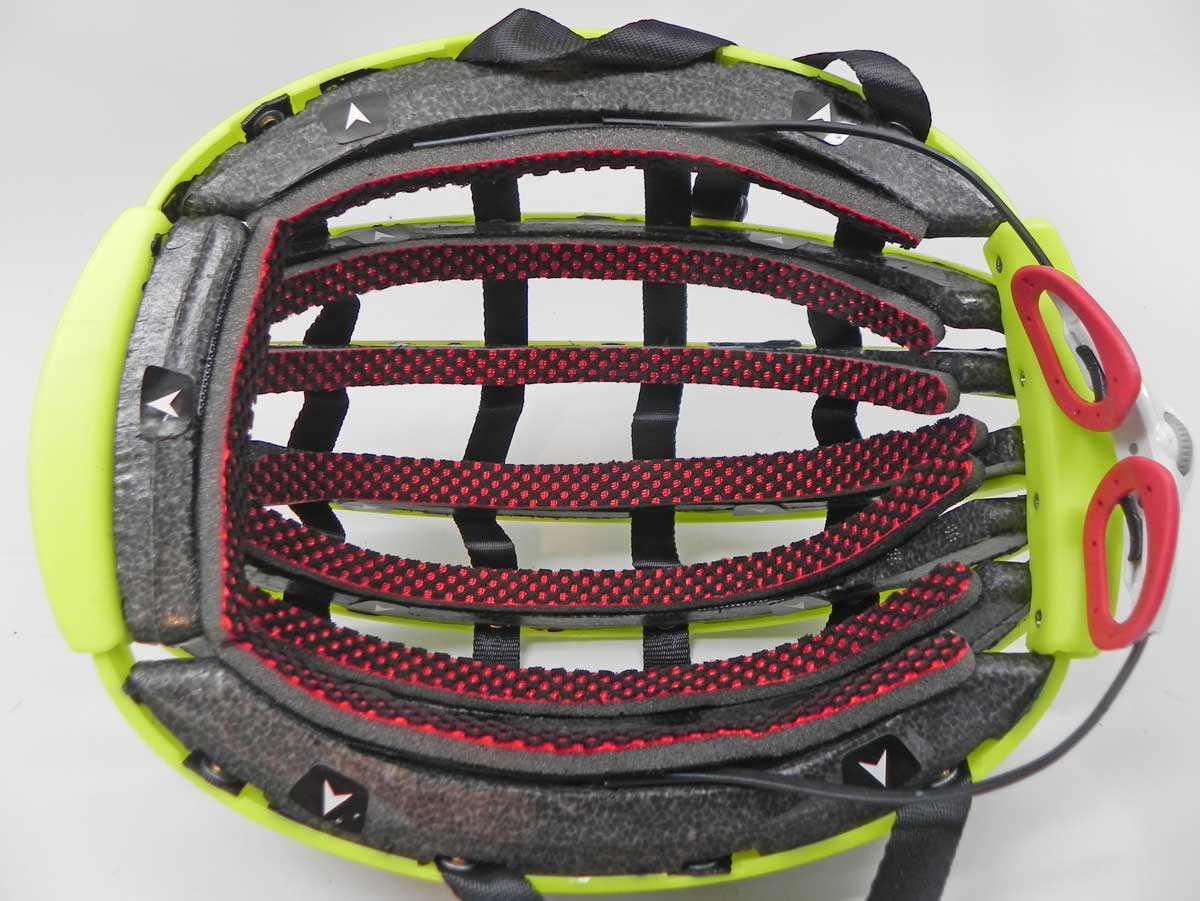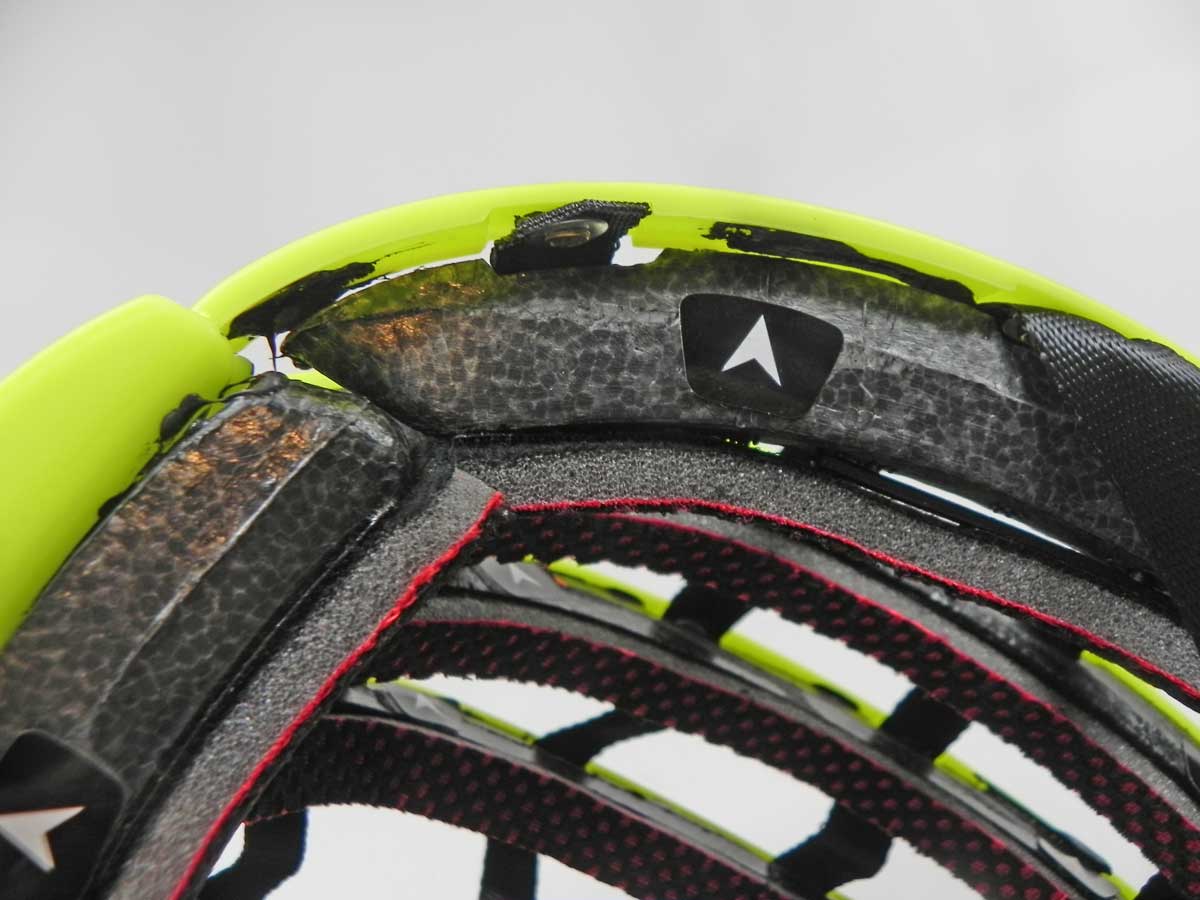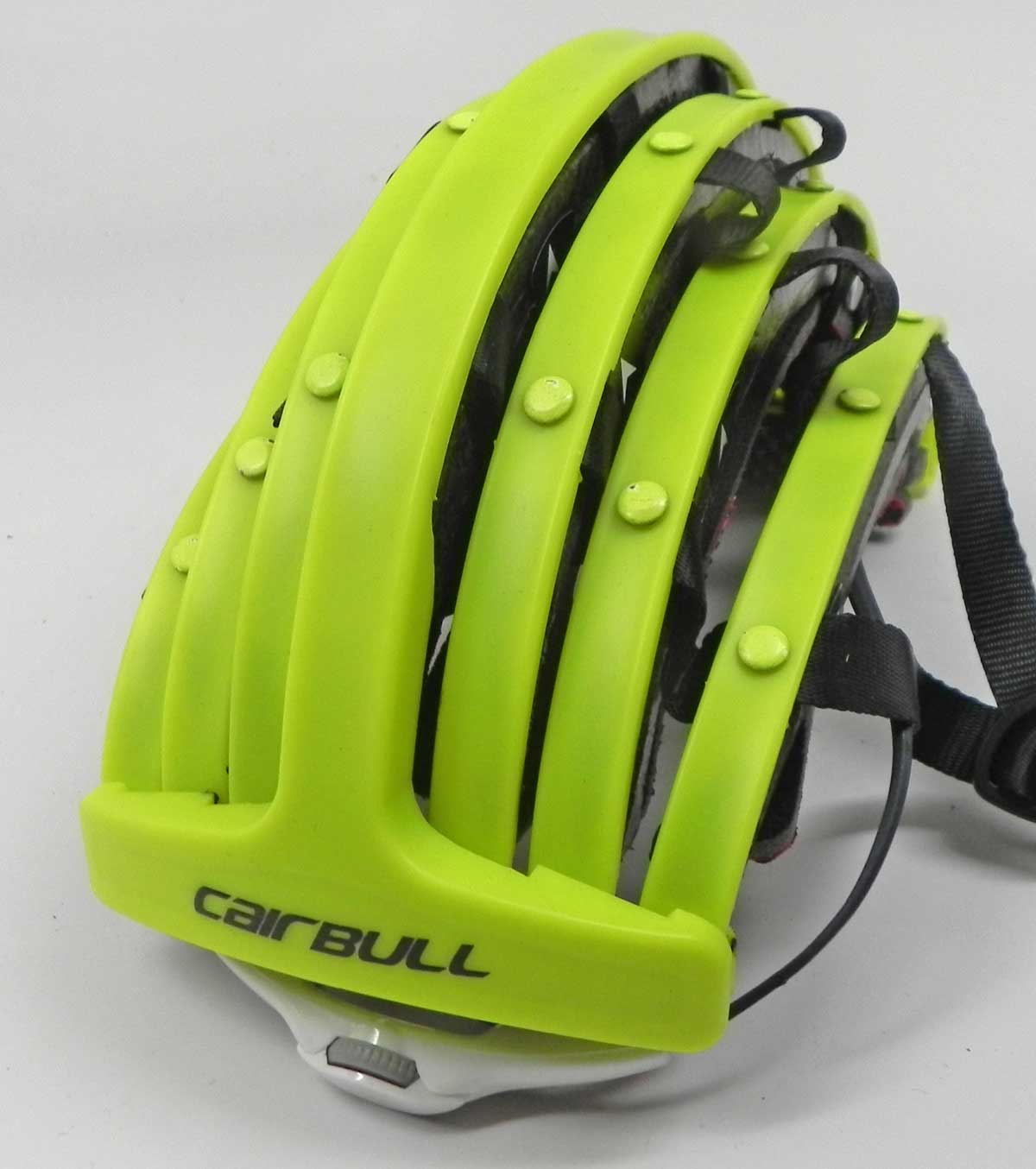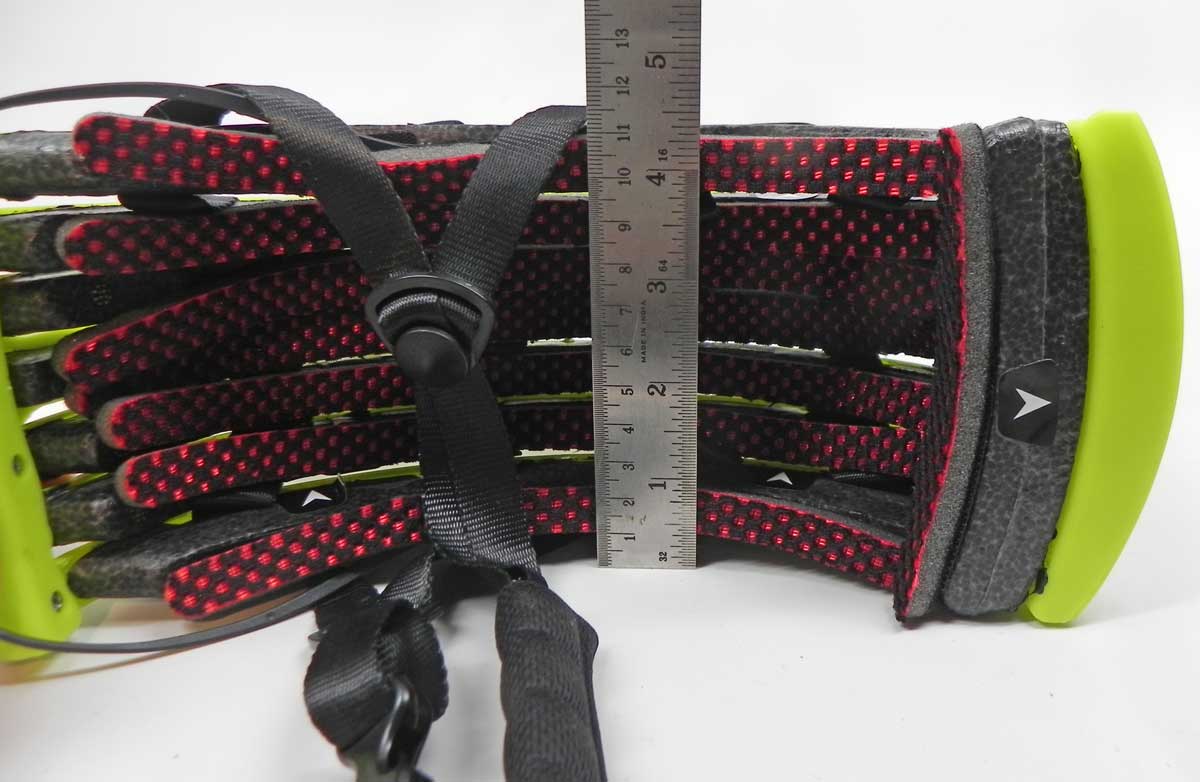 The strap junction pieces do not lock and are so slippy that we would not ride in this helmet. Our sample arrived with no stickers. The "Use and Care Booklet" states that the helmet is EN1078 certified, but that standard requires a sticker on the helmet, so it does not meet at least the labeling requirement.
The Certimoov site
gives it three stars, but only a half-star for lateral impact. This one is no longer on the Cairbull site, and has dropped off of Amazon. Even Aliexpress now says "out of stock."
Carrera introduced for 2013 a folding helmet initially dubbed the "Accordion" model, now known as the
Foldable
. It is made of strips joined by an elastic frame that opens to provide vents between the strips and folds into a solid piece to reduce the width for storage by about 20 per cent. Said to be inspired by the old racers' "hairnets."
This YouTube clip from the 2012 Eurobike show
shows it in action, and there is
more on it here
. There are variations including the
Foldable Crit
model. Carrera says they fit well because of the folding construction. We don't like the gaps between the strips on the front edge, leaving corners that might do more damage to your face in a crash than a continuous edge would. Initially designed only to the European EN 1078 standard, Carrera says they now have CPSC models as well. Online prices vary widely.
Closca of Spain produced its first folder model in 2013. It was CEN-certified at that time, but they then obtained certification to the US CPSC standard. The first design consisted of three concentric rings that telescope down inside each other for carrying. For briefcases, the Closca folds to 2.5 (63mm), a little more with the cap brim that comes with it. (Second photo)
The rings give the helmet an unusual round profile. Unfortunately the Closca has a cloth cover rather than plastic. It retails on their website for €62.
For 2019 Closca introduced their new
Loop
model, known in the US as
The Stack
or
The 174 Hudson Stack
. The shape is a little different from the original Closca, with a forward-swept lower ring. But the concept is the same, with telescoping rings that Closca says reduce the helmet's volume by 45%. And fully extended the helmet is round and smooth. Certified to the US CPSC standard and to EN1072. Cost is €70 in Europe and $80 in the US through
Priority Bicycles
. Also available on Amazon as the
174 Hudson Stack Helmet
.
Fend has a folding helmet with ribs that fold in from the sides in two sections to stow in the helmet.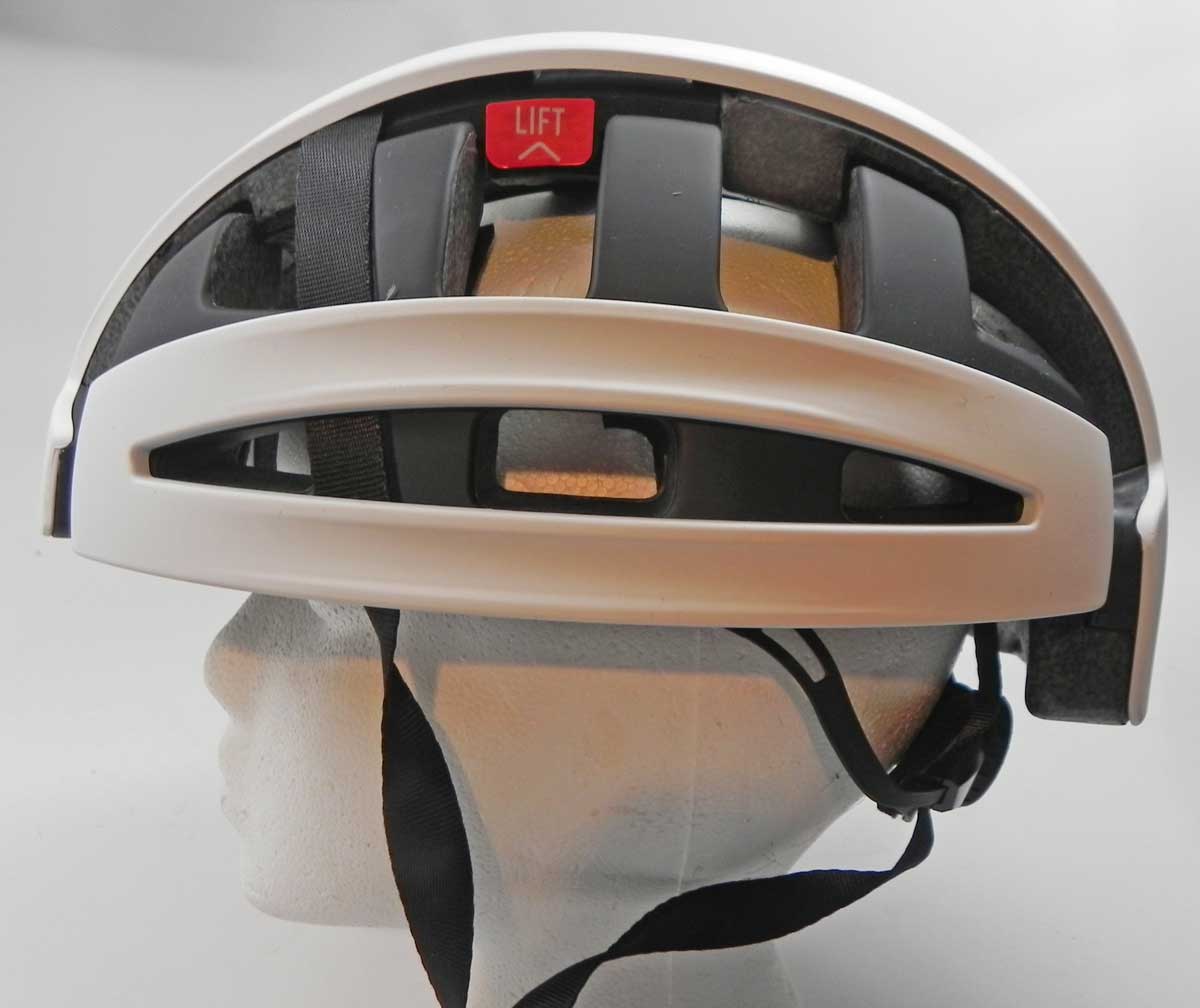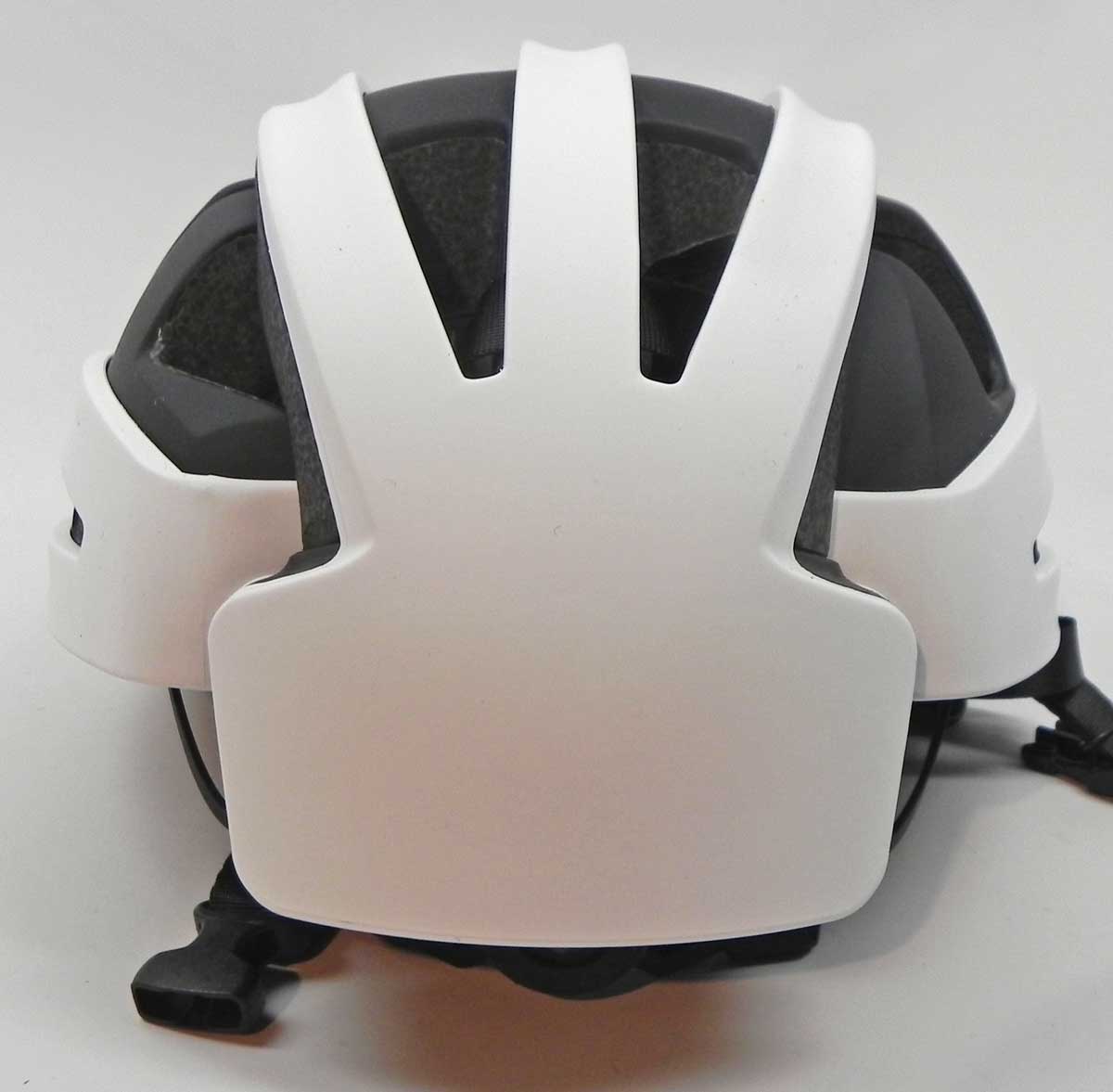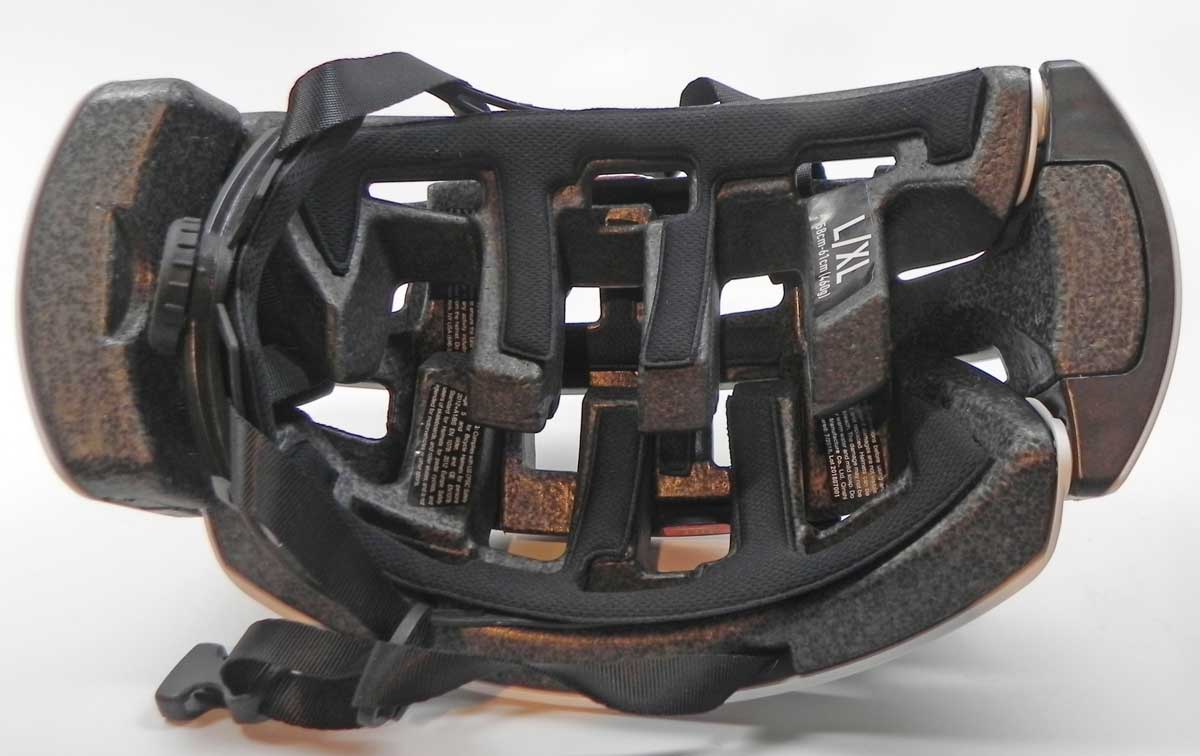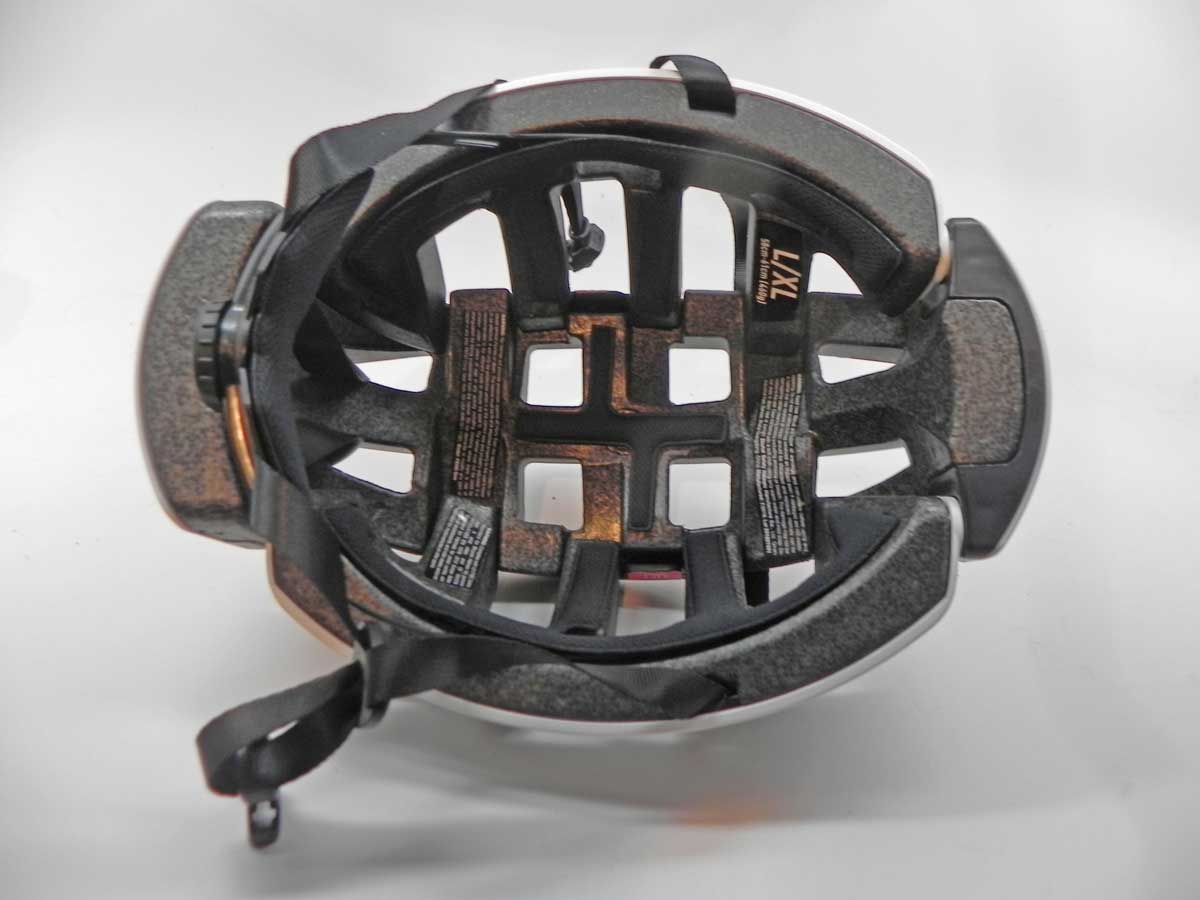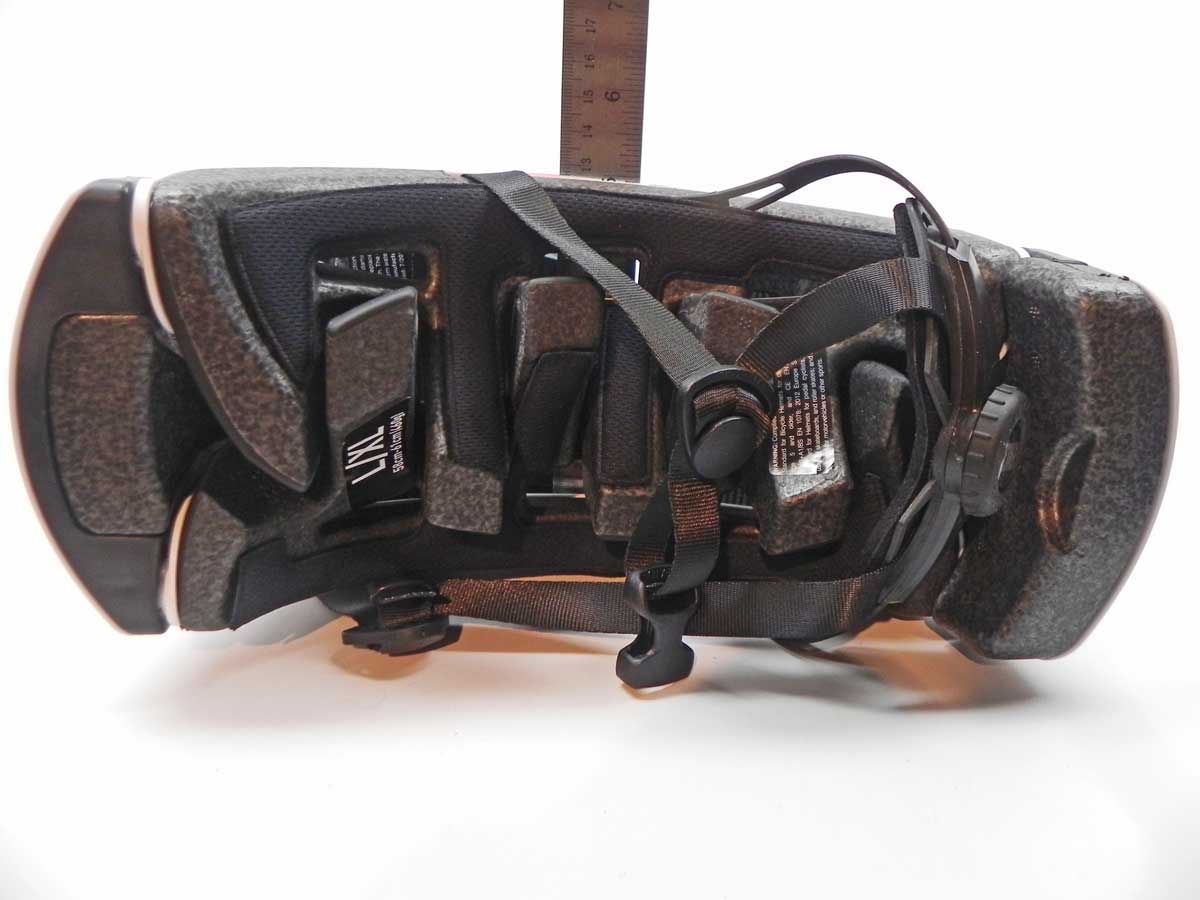 We like the way the helmet locks open, with two tabs to lift to let it fold. But the strap junctions do not lock and are so slippy that we would not use the helmet. Width when folded is about 5 inches. The Fend One is CPSC and EN 1078 certified. Comes in white, black and "NY Yellow." Retail on their site is $120 with free shipping.
HeadKayse ran a long Indiegogo campaign to develop a new soft helmet that folds, with ours actually delivered in 2020. The design is interesting, with no standard EPS foam but a flexible material they call "Enkayse." It is a multi-impact material and the manufacturer says it outperforms EPS in lesser impacts and can pass EN1078 after 300 impacts, but it seems to rebound more than EPS. The helmet is thick and feels solid and heavy. It is made of segments held together with straps that open enough to provide vents when it is worn. Folded, our sample flattens to just over 3 inches, and elongates about three inches in the fore-and-aft direction.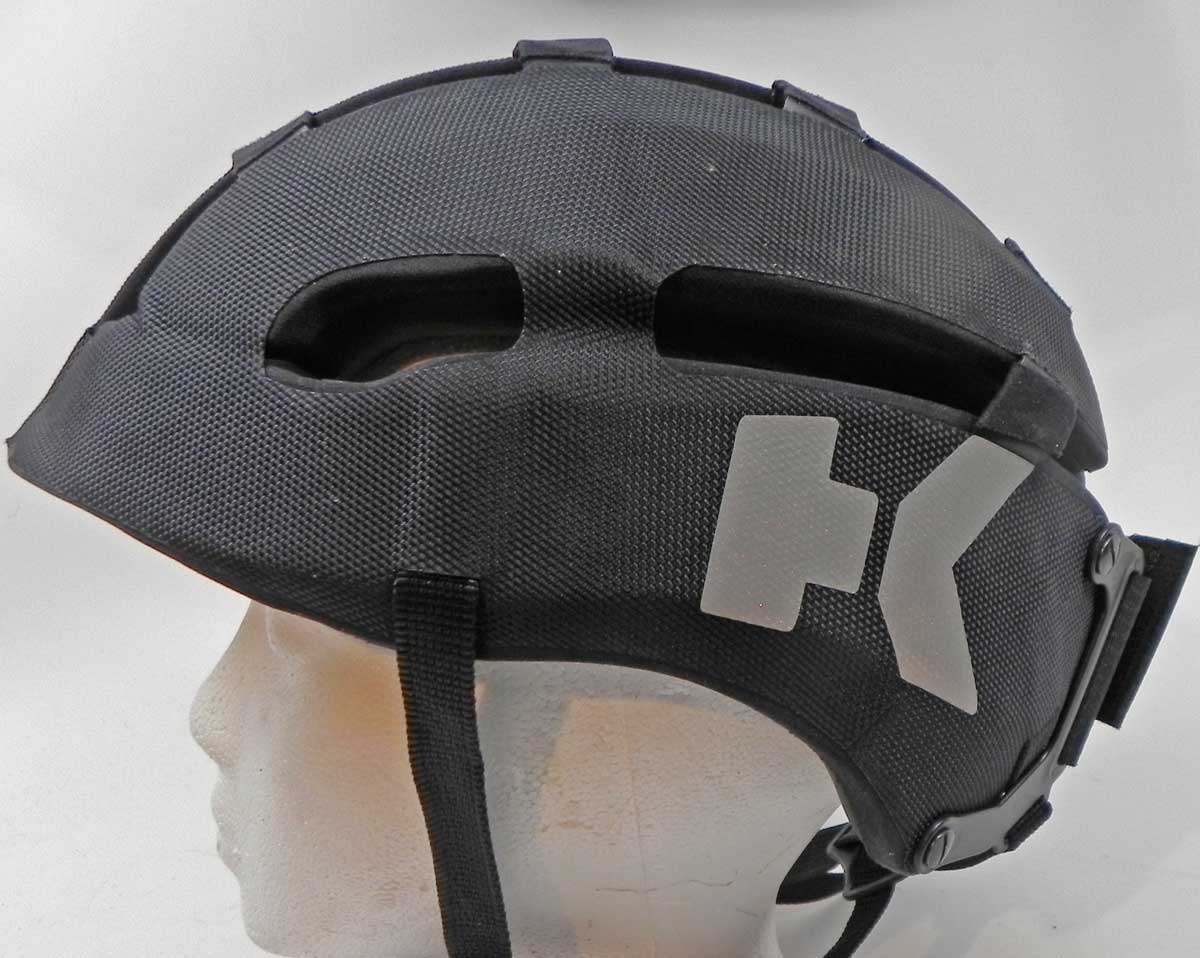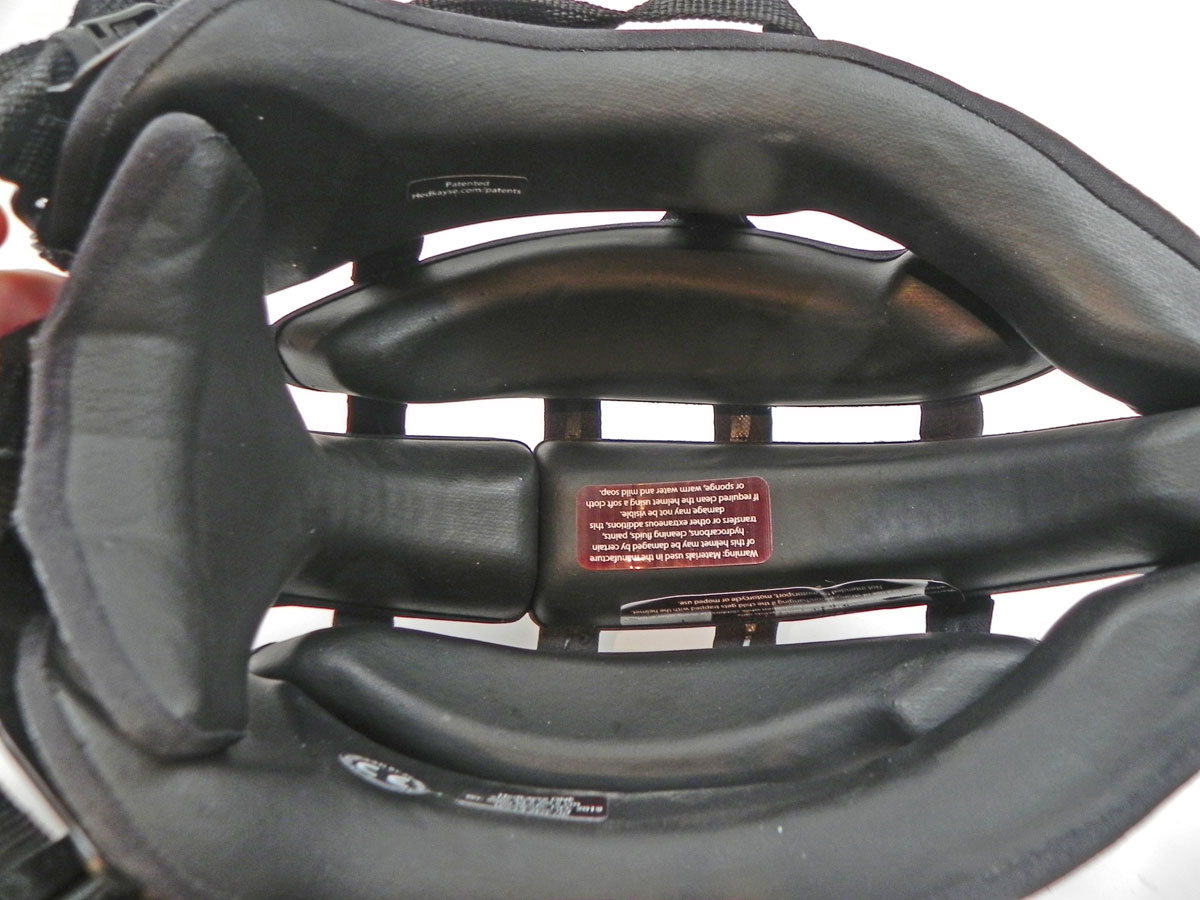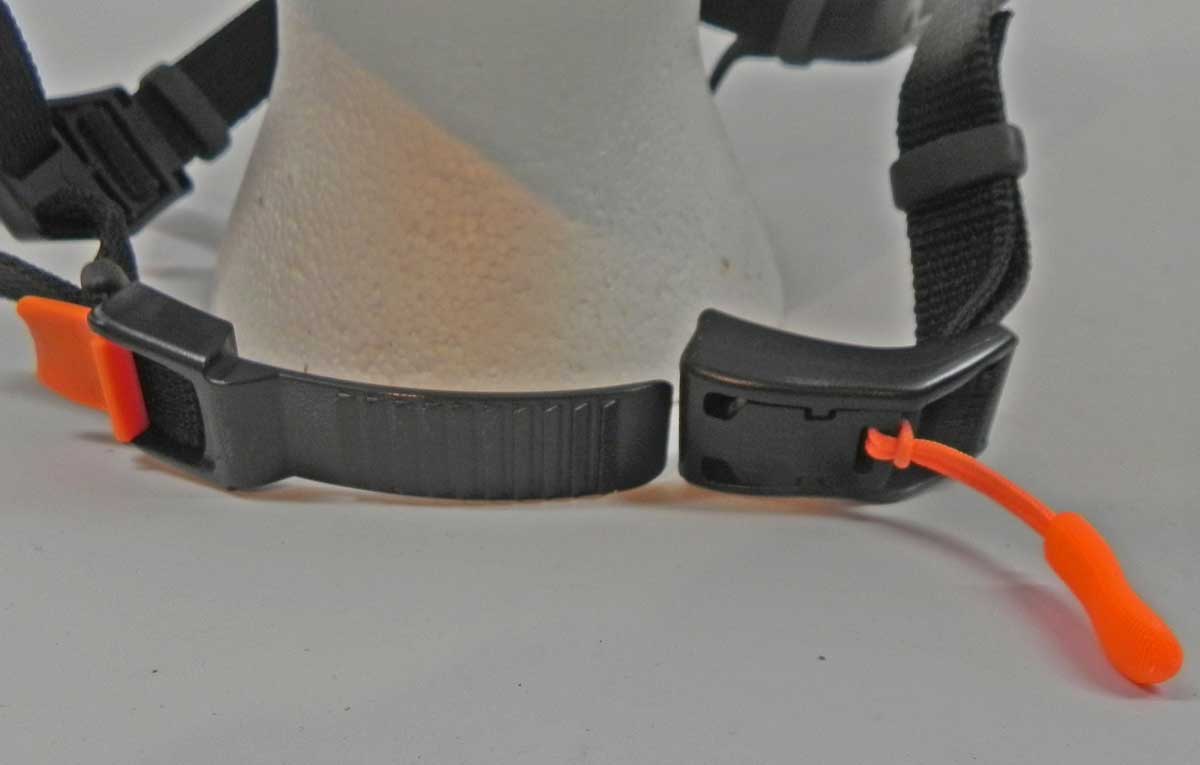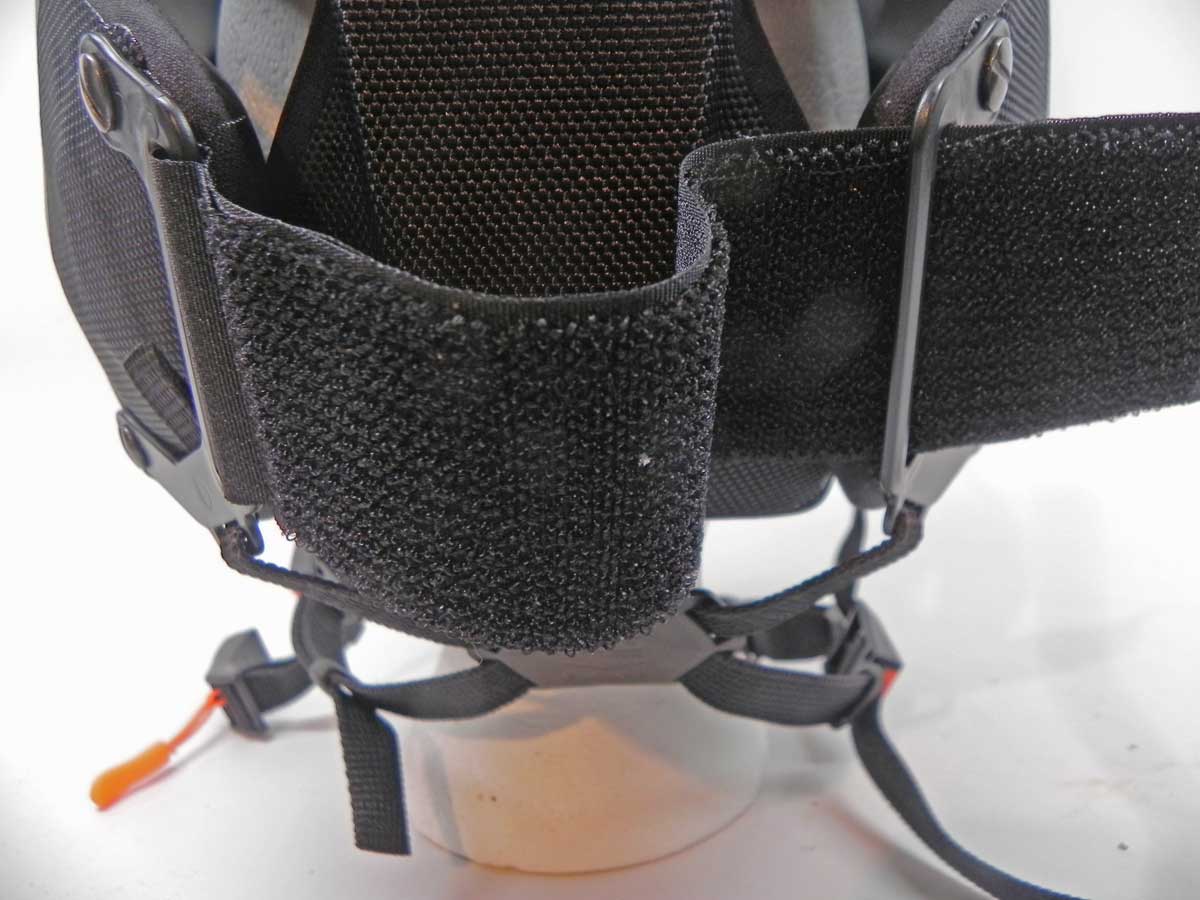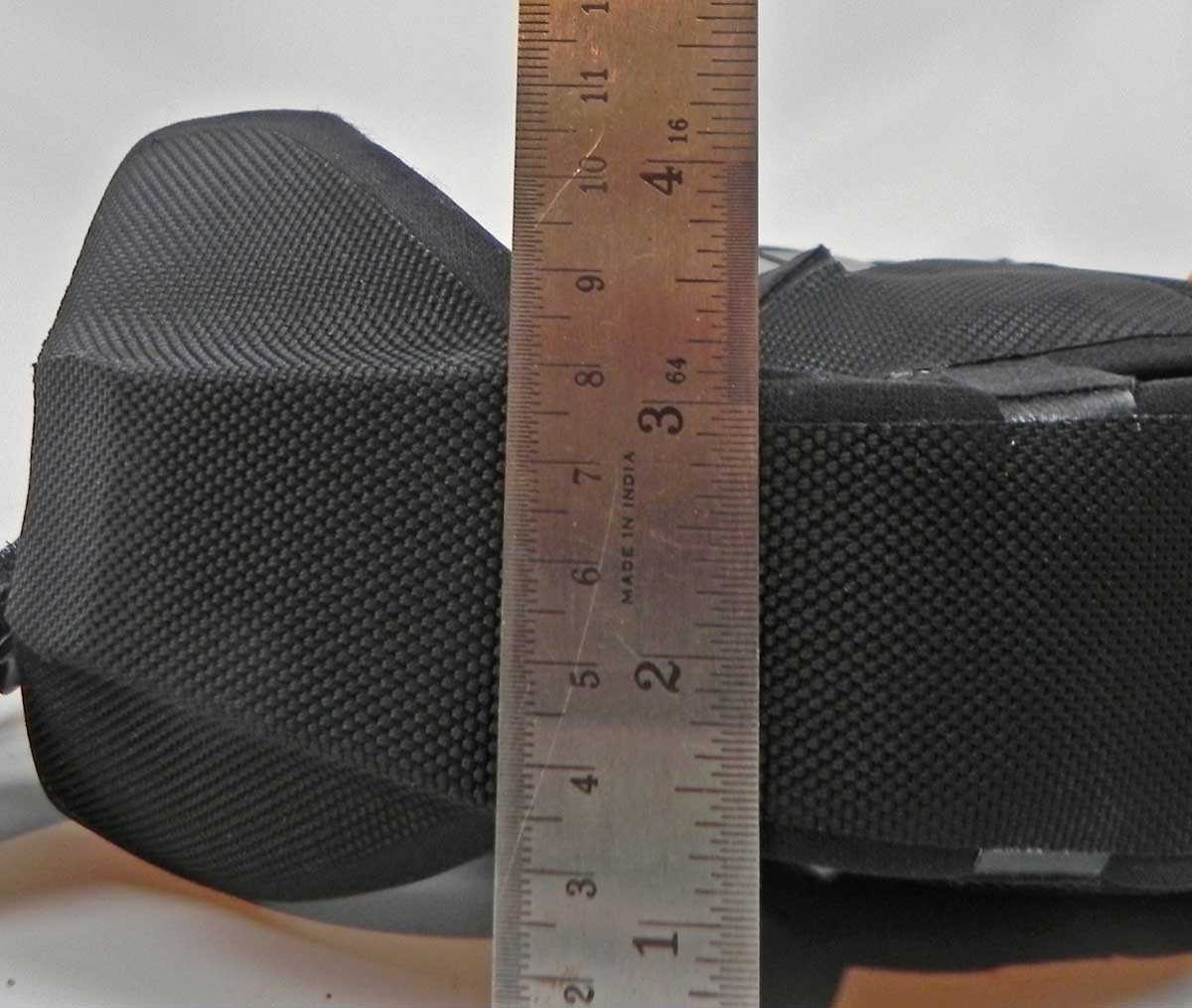 Despite strap fiddling we have not been able to get a secure fit that does not ride up in front. Hedkayse has a fit video up that may help, but did not help us. Pandemic distancing prevents our trying it on other heads at present.

The helmet has a nice slotted tab buckle that adjusts every time you wear it, but we found the end of the tab a little too sharp. The strap junctions hold exceptionally well. Hedkayse designed the helmet to meet the European EN1078 standard. Instead of test results the company has a YouTube video that would be simply fun and laughable if it were not so misleading about the EN1078 standard. That calls into question the 300 impacts cited above.
Morpher
Morpher began raising funds on November 1, 2013
through Indiegogo
to launch a new line of helmets that fold flat. They folded the company in 2020 and CPSC has issued a recall for the helmet, with instructions to discard it.
The Morpher folded to just under 3 inches/75mm.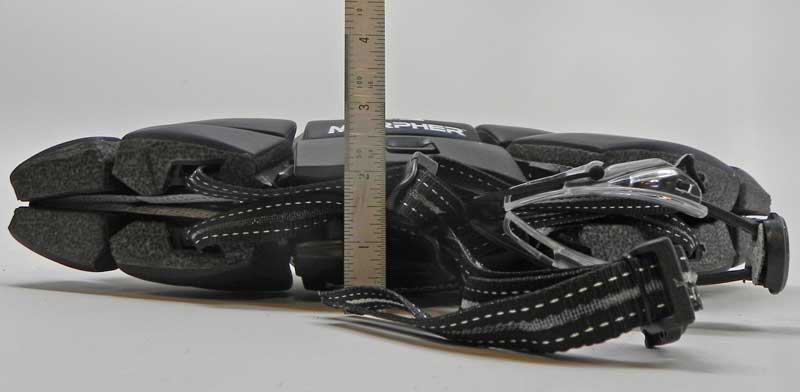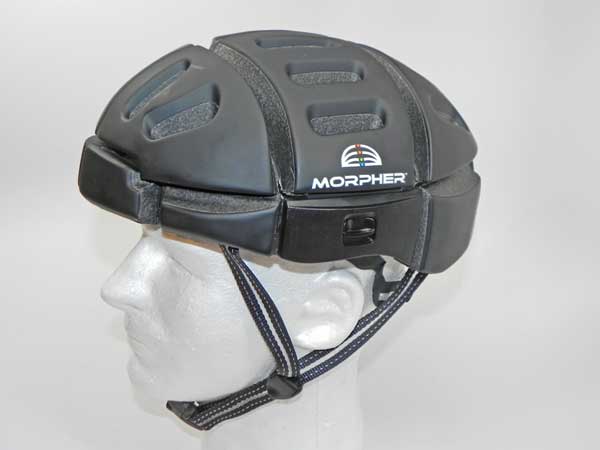 The helmet was made of segmented blocks of foam joined by internal plastic strips like the old non-folding SportScope design, with plastic clips on each side holding it in helmet shape. The clips require two hands to unfold the helmet, and on our sample they were initially stiff and difficult to snap in place. The helmet was still flexible when unfolded and the clips were fastened, pressing inward on the sides. We found the original helmet less than comfortable. It had "hot spots" where angular foam bumps contacted the head and when unfolded the segmented construction still caused it to press on the head. A revision of the design dealt with that problem. We tried it briefly, and it seemed much improved, but we were unable to try it for a long ride to see how well it worked. The Fidlock buckle was held together by a magnet. When folded, the helmet had four internal magnets that held it flat, seen as the small circles below the side clips in this photo.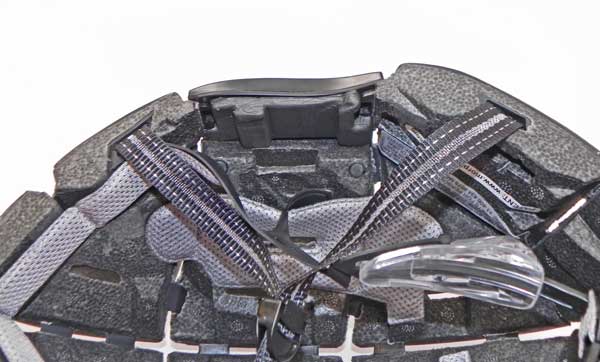 The original strap junctions did not hold well, and we found it hard to adjust for a truly stable fit. Morpher redesigned the junctions. Morpher produced a CPSC model. Although the only color available was matte black, there was supposed to be a white option. There were two small reflective rear logos and reflective strap stitching. The US retail price was $120.
In July of 2019 Consumer Reports published a rating for the Morpher helmet of "Don't Buy: Safety Risk" after it failed their impact tests. The tests are basically identical to CPSC testing. Although Morpher said their helmet had passed in other labs, that raised a serious question about its protection. The CPSC recall announcement more than a year later answered the question, but by that time Morpher was no longer in business to fund a recall. We got an email from Morpher in October 2020 informing us that we should no longer use the helmet we had bought from them. Their closeout web page said "It's being great fun..." but had no mention at all of the recall, leaving you to draw your own conclusions about the company. A domain broker has the name now.
Overade has a folding hardshell helmet called the Plixi with a complex folding mechanism. It meets the CPSC and CEN helmet standards.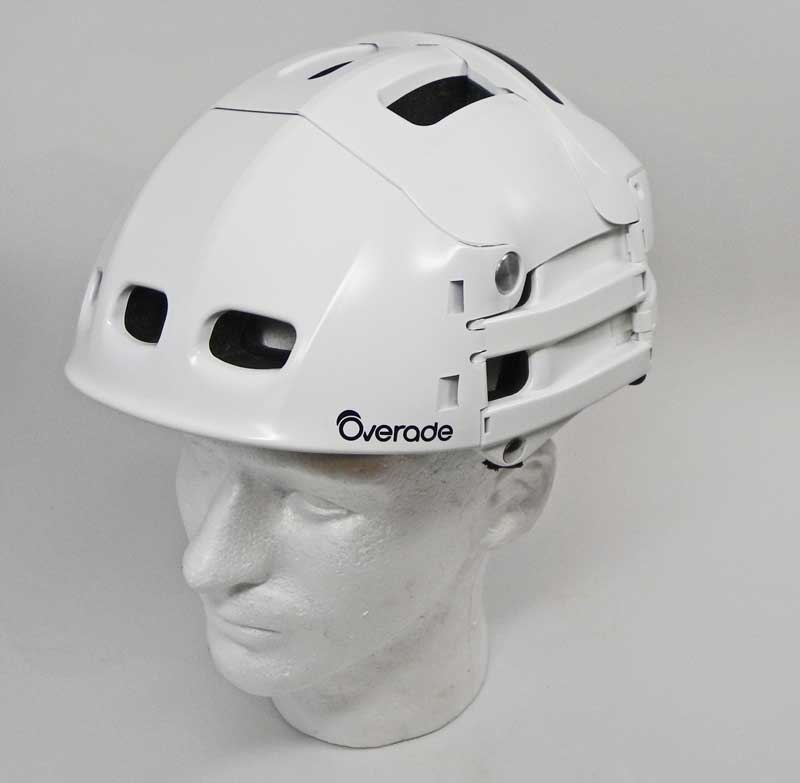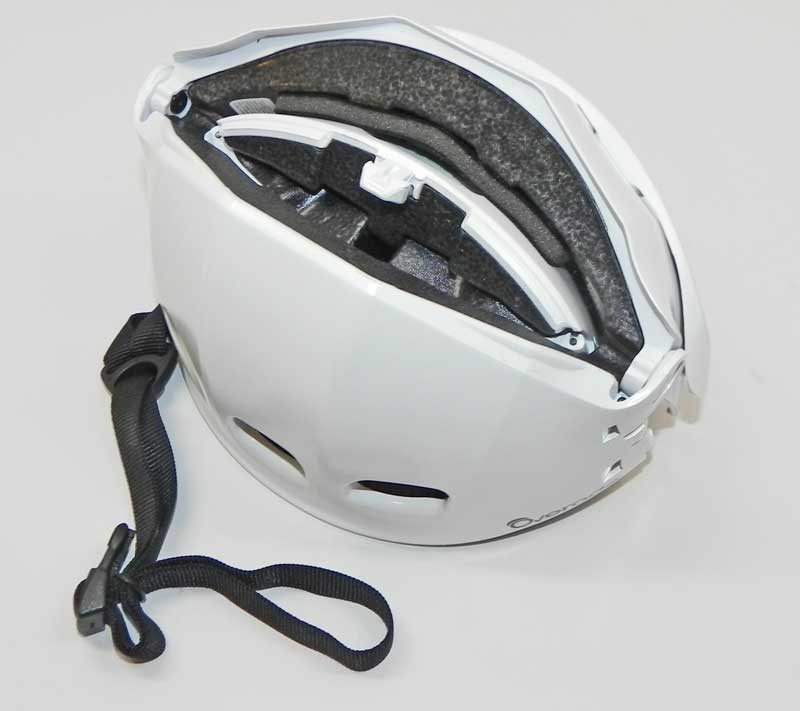 Consumer Reports rated its impact performance as Good in their 2019 helmet ratings, but downrated it for fit and ventilation. You can see the folding action in
this video
. The Overade folds into a chunk instead of flattening like most folders. Folded measurements are about 4.75" (120mm) by 8.4" (210mm) by 6.4" (106mm). There are accessories to include a visor and rain cover. Strap junctions on our sample did not hold at all, so fitting would be difficult without sewing the straps or using rubber bands below the fittings to prevent them from slipping. It is available on the Overade web page for € 75, on the UK market for as little as 60 Pounds and now in the US at about $100, all plus shipping.
Weshine Online is marketing a folding paper helmet that appears in the photos to be almost the same design as the Spitfire Industries Ego listed below.
It is advertised as made of "cardstock." There is nothing on the WeshineOnline site about meeting any standard. Weshine Online is a Chinese company, but to sell in the US the helmet has to meet the CPSC standard. The price is lower on Amazon at $30, and $36 on the Weshine Online site, but Weshine includes shipping.
Others not yet delivered
Newton-Rider is promoting a new foldable helmet with an Indigogo campaign. The helmet is only 16mm thick (about half of a normal helmet thickness) but is said to meet the EN1078 and CPSC standards. The company is Danish and is backed by an agency of the Danish government. Deliveries were anticipated in the first quarter of 2021. The price ranges from $81 plus shipping and taxes on up.
Park & Diamond
Park & Diamond has developed a folding (or rollup) design and is promoting it with
an Indiegogo campaign
that has raised over $3 million. The description: "Looks and feels like a baseball cap." But the helmet has a strap and is designed to meet the CPSC standard. Advertised as weighing 8 oz. but the current estimate has increased to 15.5 oz. Estimated delivery was originally February 2019, but we have not received ours yet and they have announced that due to coronavirus delays at their first manufacturer they have been forced to change manufacturers. Their timeline shows deliveries beginning in December 2020, but we have not received ours yet.
This YouTube video
speculates that the design is changing. The almost doubling of the original weight might indicate that. The current Indegogo page says "This campaign is under review. It is not accepting contributions."
Put A LID on It
Put A LID on It has been developing a low cost folding helmet designed for shared bicycle programs, particularly the London system. In mid-2016 their site said they would launch the crowdfunding effort soon. We can't find them now.
Spitfire Industry
Spitfire Industry is developing a new
Eco Helmet
model made of recyclable paper in a radial honeycomb pattern. This will be an exciting new model if it can meet standards. It folds flat and is said to be very inexpensive to produce. They are intended to be readily available for shared bike system users.
Although the website says "Crash Tested. Absorbs blows like traditional styrofoam." and "EcoHelmet absorbs blows from any direction as effectively as traditional polystyrene," a media report says it is not yet certified to CPSC as of August 2016. The testing shown in the company's video does not even approximate the CPSC impact test protocol, and CPSC requires testing after at submersion in water for up to 24 hours, a real challenge for paper waterproofing. EcoHelmet plans to launch early in 2017. We hope they find the right materials to make the design work. (June, 2017: Weshine is marketing what appears to be the same design--see above)
Kova
Kova had attempted to bring a folder to market but notified us in April 2021 that they were shutting down.
Bottom line
Folded or not, a helmet is another item for a pedestrian to carry unless planning in advance to use a borrowed or shared rental bicycle. That may not be a problem for backpack users, but those with purses or briefcases can't tuck a non-folding helmet inside them. We are glad to see models in the market that meet the US standard, and hope for more.