Folding helmets
---
Summary: Folding bicycle helmets are easier to carry off the bike and could be useful for shared bicycle system users. There are some decent ones on the market, including some that meet US standards.
---


Folding a helmet can make it easier to carry, so users of folding bicycles have always found them appealing. Users of shared bicycle systems would like a collapsible helmet they could tuck into a purse or briefcase and pull out when they use one of the shared bikes.

Although a helmet may fold, it still requires the same volume of impact foam. To manage the energy of an impact, the foam must be thick enough to give the head room to stop in a controlled deceleration. So the helmet materials can fold, but the volume of material itself will be the same, limiting the compactness. In addition, the helmet has to maintain its structural integrity in an impact, requiring engineering skill and probably more expensive materials to construct.

The first folding helmet we know of that met the US CPSC standard was the Motorika Snapit, introduced in 1997. It was a clamshell design with one half folding inside the other. We did not like the ridge left from back to front when it was unfolded in use, and the 16 oz. (454 grams) weight discouraged some buyers. It disappeared from the market soon after the turn of the century, but others have emerged:

Biologic's Pango appeared in 2012. The current design by Biologic has two sides that fold into the center. It does not meet the CPSC standard, so it is not available in the US market, but it meets the CEN standard and is sold in Europe.

Carrera introduced for 2013 a folding helmet initially dubbed the "Accordion" model, now known as the Foldable. It is made of strips joined by an elastic frame that opens to provide vents between the strips and folds into a solid piece to reduce the width for storage by about 20 per cent. Said to be inspired by the old racers' "hairnets." This YouTube clip from the 2012 Eurobike show shows it in action, and there is more on it here. There are variations including the Foldable Crit model. Carrera says they fit well because of the folding construction. We don't like the gaps between the strips on the front edge, leaving corners that might do more damage to your face in a crash than a continuous edge would. Initially designed only to the European EN 1078 standard, Carrera says they now have CPSC models as well. Online prices vary widely.

Closca is a Spanish company that produced its first folder model in 2013. It was CEN-certified at that time, but they have since obtained certification to the US CPSC standard. The design consists of three concentric rings that fold down inside each other for carrying.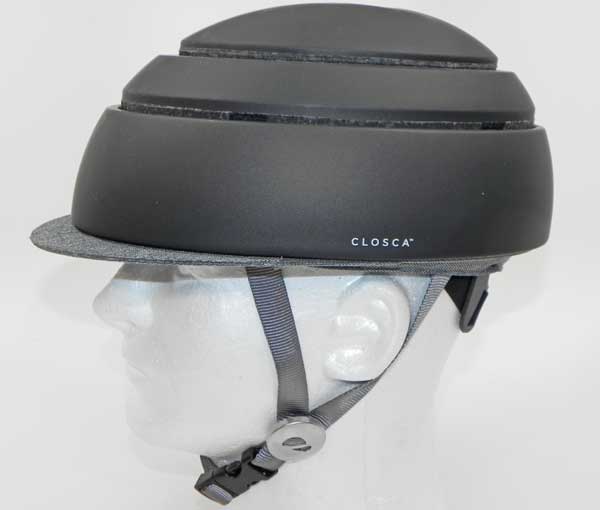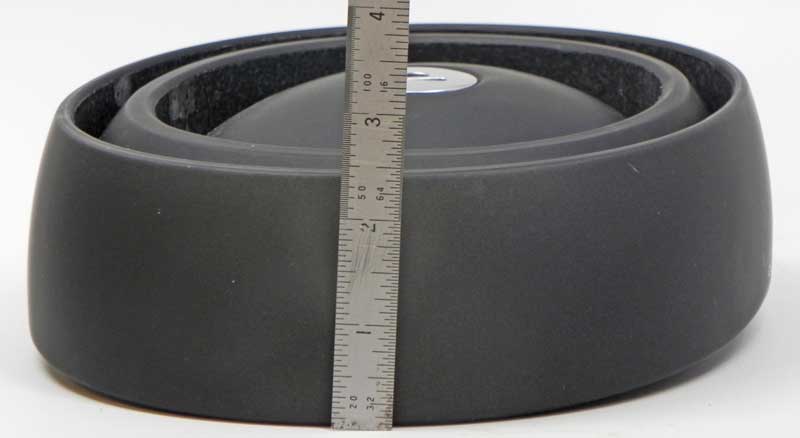 Unfortunately the Closca has a cloth cover rather than plastic. It retails on their web site for 62 euros.




Overade has a folding hardshell helmet called the Plixi with a complex folding mechanism. It meets the CEN helmet standard, and the Small/Medium version meets the US CPSC standard as well.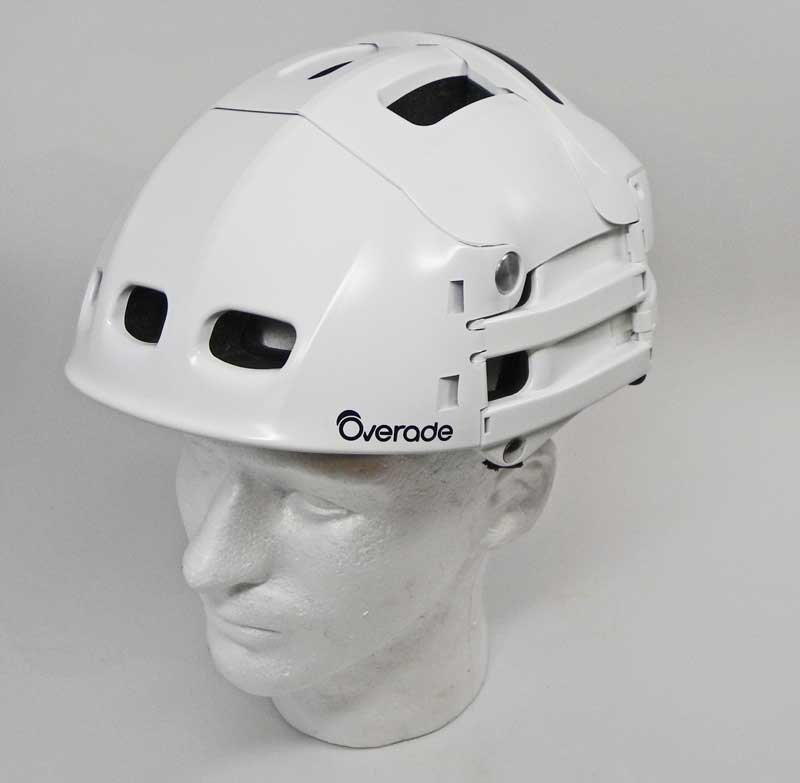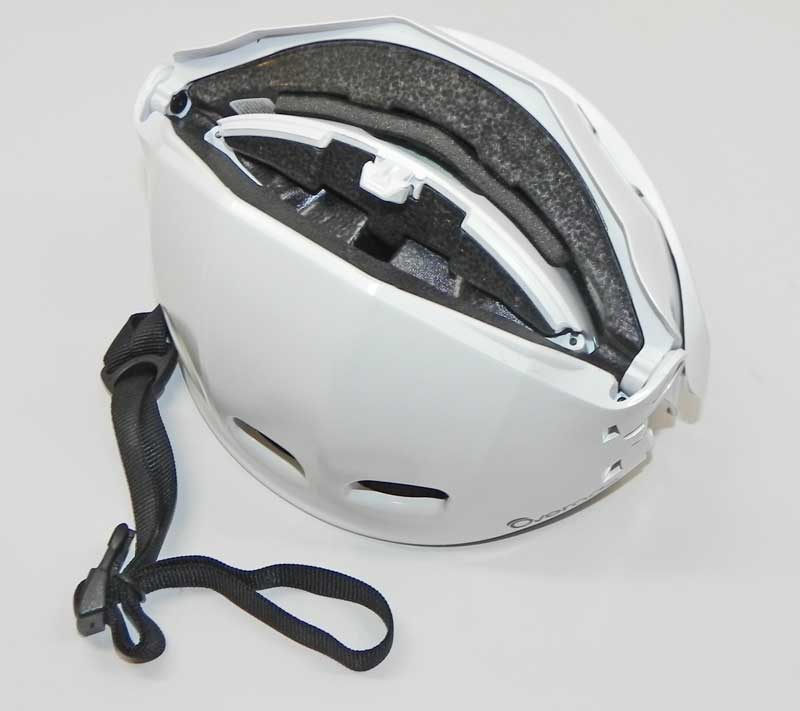 Consumer Reports rated its impact performance as Very Good in their 2016 helmet article, but downrated it for fit and ventilation. You can see the folding action in this video. The Overade folds into a chunk instead of flattening like most folders. Folded measurements are about 4.75"/120mm by 8.4"210mm by 6.4"/106mm. There are accessories to include a visor and rain cover. Strap junctions on our sample did not hold at all, so fitting would be difficult without sewing the straps or using rubber bands below the fittings to prevent them from slipping. It is available on the European market at about $135.




Morpher began raising funds on November 1, 2013 through Indiegogo to launch a new line of helmets that fold flat. A true flat-folding helmet is very useful for carying in a briefcase, and the Morpher accomplishes that, folding to just under 3 inches/75mm.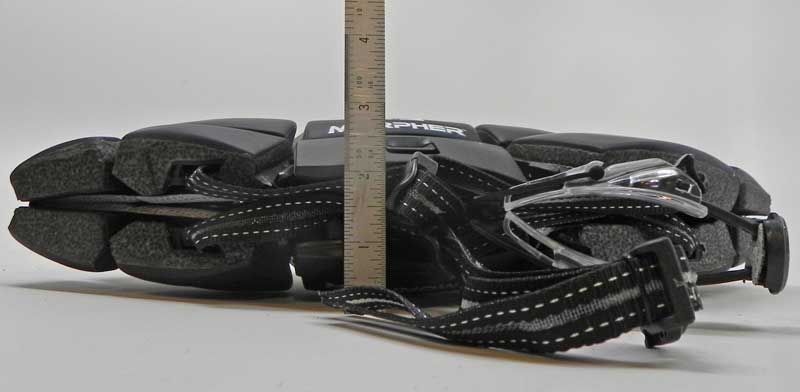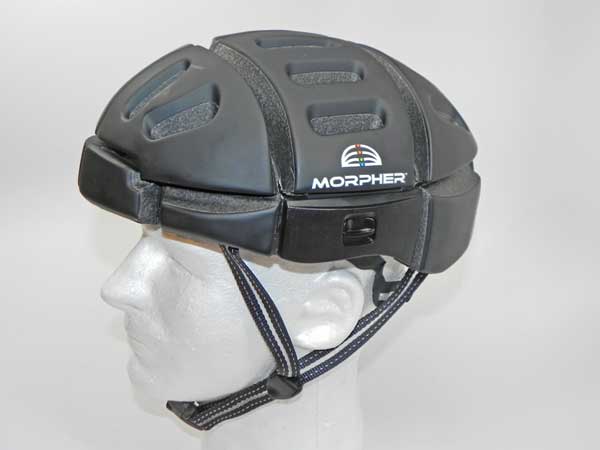 The helmet is made of segmented blocks of foam joined by internal plastic strips like the old non-folding SportScope design, with plastic clips on each side holding it in helmet shape. The clips require two hands to unfold the helmet, and on our sample they were initially stiff and difficult to snap in place. The helmet is still flexible when unfolded and the clips are fastened, pressing inward on the sides. We found the original helmet less than comfortable. It had "hot spots" where angular foam bumps contacted the head and when unfolded the segmented construction still caused it to press on the head. A more recent revision of the design has dealt with that problem. We have tried it briefly, and it seemed much improved, but we have not tried it for a long ride to see how well it works. The Fidlock buckle is held together by a magnet. When folded, the helmet has four internal magnets that hold it flat, seen as the small circles below the side clips in this photo.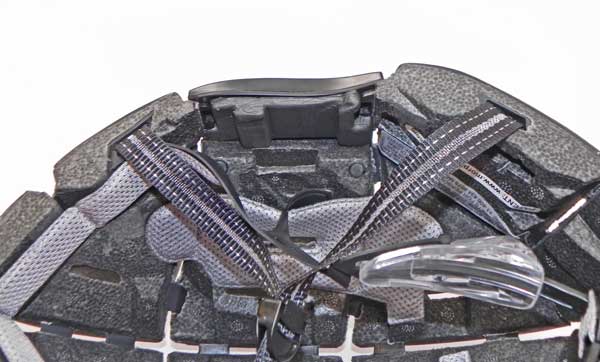 The original strap junctions did not hold well, and we found it hard to adjust for a truly stable fit. Morpher has redesigned the junctions. Morpher produces a CPSC model. Although the only color available at the outset was matte black, there is a new white option coming soon. There are two small reflective rear logos and reflective strap stitching. The US retail price is planned to be $151 or less.



Others
Put A LID on It has been developing a low cost folding helmet designed for shared bicycle programs, particularly the London system. In mid-2016 their site says they will launch the crowdfunding effort soon.

Spitfire Industry is developing a new Eco Helmet model made of recyclable paper in a radial honeycomb pattern. It will fold flat and be very inexpensive to produce. They are intended to be readily available for shared bike system users. A media report says it is not yet certified to CPSC as of August 2016, and the testing shown on the company's video does not even approximate the CPSC lab test protocol. EcoHelmet plans to launch early in 2017.

Folded or not, a helmet is another item for a pedestrian to carry unless planning in advance to use a shared rental bicycle. That may not be a problem for backpack users, but those with purses or briefcases have to carry the helmet elsewhere. We are glad to see models emerging that meet the US standard.





This page was updated or partially revised on: December 1, 2016.